Ghanaian media journalist Afia Pokua popularly known as Vim Lady has disclosed a sad moment she encountered during her 17-year journey at Multimedia.
The Journalist in a Facebook post revealed that she had to leave her father on his death bed to go read the news before rushing back to the hospital to bid him farewell.
Afia Pokua also stated that one of her biggest blessings was working at Multimedia Group which has been a great learning experience also.
Afia shared on Facebook; "One of my biggest blessings God has ever given me is positioning me at Multimedia Group Limited after my short stint at P&P. For 17 years, I have done my best, even left my father on his dying bed to read my bulletin before running to the hospital to bid him farewell. I have learnt from great people and taken lessons from my bad experiences. This is the best time to leave and open avenues for others to grow. I'm indebted to all those who helped me on that journey. It's been fun, tears but a great experience. I hope to learn more on my next chapter. #Lessons #MayGodDirectMySteps"
See post below;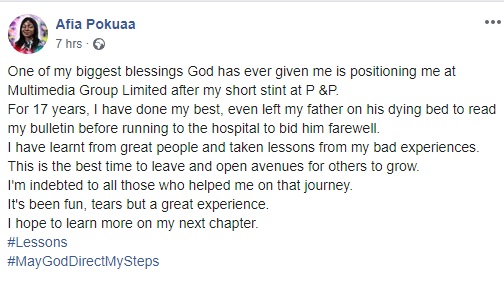 This post comes after news broke out that Afia Pokua has parted ways with Multimedia Group Limited and has now joined the Despite Group of Companies.
Afia Pokua is now the new host of a show on UTV dubbed "Mmra No Se Sen" which airs every Friday.