Ghanaian actress, Lydia Forson has angrily descended on people who are pointing fingers at Chris Attoh and accusing him of killing his own wife, Bette Jenifer who was murdered last Friday.
Lydia Forson believes that this is a time people should be offering their condolences to her fellow actor, Chris Attoh.
SEE ALSO: Eyewitness narrates how Chris Attoh's wife, Bettie Jenifer was shot dead by an assassin in the presence of dozens of people [Video]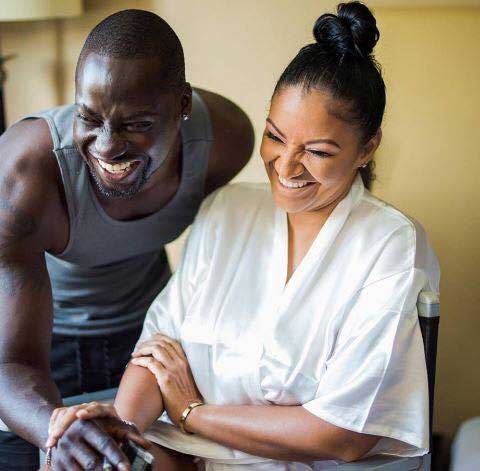 But instead, people are pointing their fingers at him and making wild allegations against Chris Attoh unjustifiably. Again, others are digging for conspiracies ever since Bettie was shot dead.
Lydia Forson who sounded very pissed questioned the kind of people who does that at this time of public tragedy.
Lydia Forson posted on Instagram:
SEE ALSO: Details of how Chris Attoh's wife, Bettie Jenifer was shot by 'gang' of her drug baron ex-husband who is in jail because she remarried surfaces online [SEE]
"Someone is going through a very public tragedy and instead of offering words of condolence; your immediate reaction to point fingers and dig for conspiracies. What kind of people are you?."
SEE ALSO: Profile: Here is everything you need to know about Chris Attoh's wife, Bettie Jenifer who has been assassinated in the USA [+Photos]
44-year-old American, Bettie Jenifer was shot dead last Friday, 10th May 2019 in Maryland, USA. Bettie had closed from work when a Black man wielding a gun shot her.
Prior to the murder, Chris Attoh had sparked divorce rumors when he deleted all photos of Bettie from his social media pages. Chris and Bettie got married in Accra in October 2018.
SEE ALSO: Chris Attoh speaks for the first time after his wife, Bettie Jenifer was murdered in the USA – Here is his message to his fans [Screenshot]
Critics claim the timing of the divorce rumors and the killing of Bettie implicates Chris Attoh. There have also been other reports that the ex-husband of Bettie who is in jail for drug trafficking had her killed.