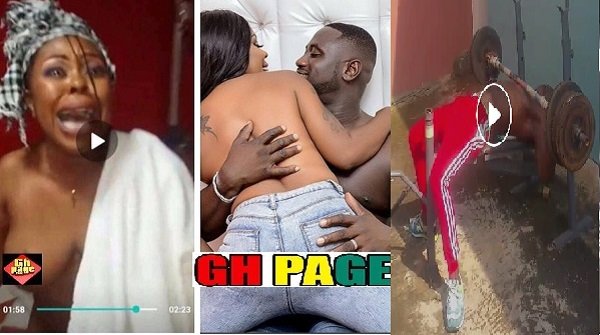 Some Body builders(Macho Men) who based in Accra have expressed their anger on Schwarzenegger's newly ex-husband, Mr. Lawrence Abrokwah, for threatening her with acid after he caught her in bed with another man.
TV presenter and self-acclaimed queen of comedy, Afia Schwarzenegger was recently caught in bed with another man by her husband Mr. Lawrence Abrokwah in their matrimonial house.
READ ALSO: Afia Schwarzenegger Takes the Fight to Elikem Kumordzie
The incident's video which was alleged to be taking and released by her husband shockingly hits the public through social media and attracted many reactions.
A lot of people have shared their mixed reactions to Afia Schwarz scandal including most celebrities and the recent one is from the camp of some macho men in Accra.
In the video was seen Mr. Abrokwah holding a bottle which contains something he was referring to as acid, with which he threatened Afia to destroy her face.
REA ALSO: Audio: Afia Schwar rain curses with Antoa on anyone who tries to reconcile her failed marriage
Now, in a video circulating on social media, a certain body builder is wondering and annoyed about the husband's threat to attack Afia Schwarzenegger with that thing he called acid.
The macho man speaking on behalf of his colleagues wondered why a macho man like Mr. Abrokwah chooses to mount a threat on his wife with acid when he could have easily beaten the adulterous man who slept with his wife.
READ ALSO: "My P*ssy Is Mine, I Do With It What I Like" – Afia Schwarzenegger Replies Critics
"Abrokwa has disappointed macho men in Ghana and we are very sad for him. How can you threaten your wife with acid when you always go to the gym and work out? What then is your use looking at the body you have now?"

"You have indeed wasted your body because you could have beaten the man when you pounced on him and not to threaten your wife with an acid" one macho man said.
See the Macho Man's Angry video on Mr. Abrokwah