Former President John Dramani Mahama and his wife, former First Lady Lordina Mahama, are celebrating their 30th wedding anniversary.
As part of activities to celebrate the milestone, the two have donated 45-bed maternity and children's ward to the Bole District Hospital.
Meanwhile, Mahama has described Lordina as a perfect partner who has brought out the best in him. He has eulogized her effort and praised her commitment.
"Marriage is a blessing when it is with the right person. In my wife, Lordina, I have found a life partner with whom I have shared every step of life's journey this past 30 years and more," Mr Mahama wrote on Facebook.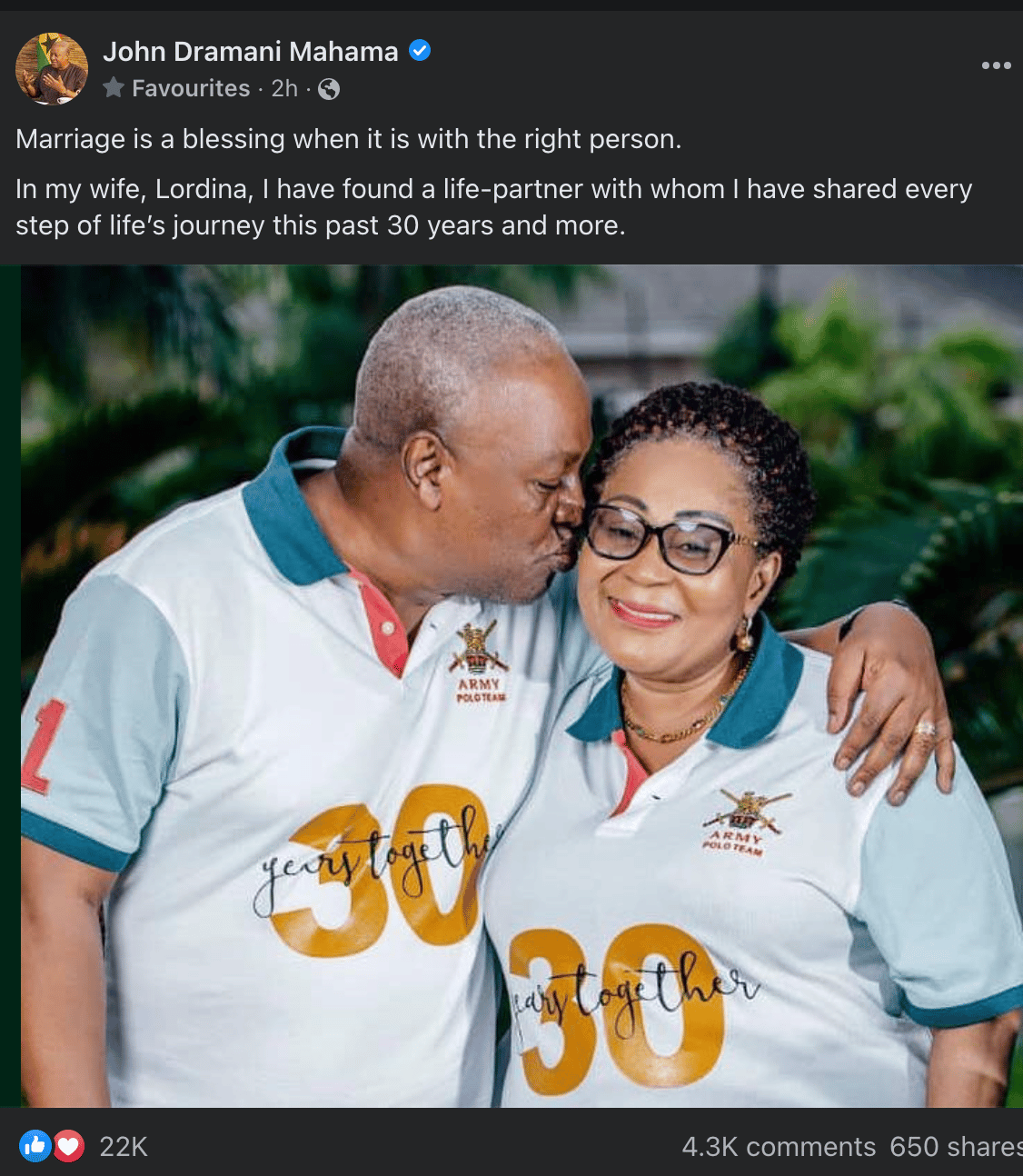 45-Bed Maternity And Children's Ward Donated By Mr and Mrs Mahama
The 865sqm Lordina Foundation Maternity and Children's Ward has a total of 45 beds, 10 baby cots, 5 weighing scales with height measurements, a Kangaroo Mother and Child Care Centre, and a Delivery Room with two delivery beds, and a Recovery Ward.
According to President Mahama, also included in the newly inaugurated wards are "a Neo-natal Intensive Care Unit (NICU) with 3 incubators, 5 phototherapy units and a baby weighing scale.
"We also have a theatre space with 2 theatre beds, theatre light and stool. We have also provided rooms for Sterilization, Examinations, Doctors' consulting room, Nurses workstations, and a Linen Room".
Mrs. Mahama is optimistic that the new maternity and children's wards will help provide optimal health care to the good people of Bole and its environs, noting that "this is our heartfelt contribution to the lovely people of this community."
She was also full of praise for her husband. "I want to thank my dear husband, President John Dramani Mahama, for his support towards the construction of this facility."