The killer of a pastor of Assemblies of God Church at Tema,  Rev Dr David Nabegmado was given a good beating by some civilians in the presence of a policeman who arrested him.
Rev Dr Nabegmado was stabbed early Sunday  morning during Church Service by his nephew. He was confirmed dead.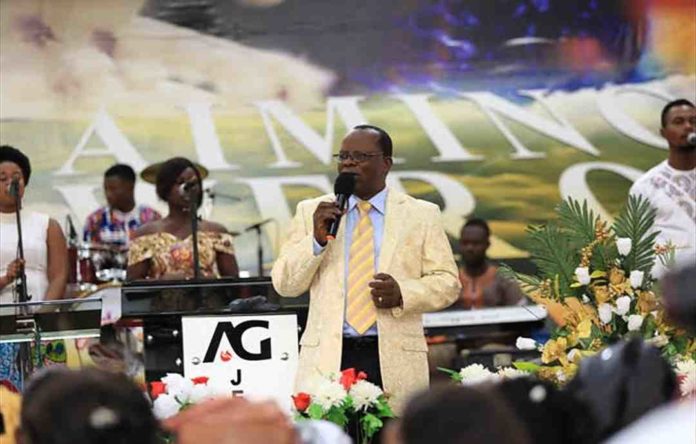 Rev. Dr. Nabegmado was attacked by his Nephew while he was preparing to leave his inner office to the main church auditorium to preach.
Read Also :The Ghana Police Service have failed to protect me for giving them vital information that led to the arrest of the killers of J.B Danquah – Informant cries
The wounded Pastor was rushed to a nearby hospital for treatment but excessive bleeding by the time they reached the Community 4 hospital, where Doctors confirmed he died before they got there.
Watch video of how the civilians almost 'lynch' the killer of the Pastor
https://www.instagram.com/p/BsC4nSPlEEV/?utm_source=ig_share_sheet&igshid=woop9k24kxb4
Read Also :Policemen beat up a blogger at Bhim Concert for taking a video of Asamoah Gyan
In another video that has found its way on the internet,The  killer who was identified as Francis Nabegmado, said he stabbed his uncle to death because his Uncle was "killing the family", and he has no regrets,
The young suspect is seen telling his captors he is happy his uncle his dead.
Wearing a bloodied shirt, he told them "He (murdered pastor) has been killing the family. Go to the house and see", he told them.
Watch the video below :
Subscribe to watch new videos
SEE ALSO :Man spotted walking with his head after he ingests heavy dose of Tramadol (VIDEO)