There is a popular belief that infidelity on the part of women is one major thing that drives men to their graves before their time. It comes only second to a nagging wife.
A broken-hearted man has a shared screenshots of conversations his wife has been having with another man and it's just heartbreaking.
The most painful aspect of the cheating issue is the fact that the wife of several years have been denying him s*x because the other man told her to and the reason being that it makes her v*gina too big for him.
He first shared the painful story of what he discovered with a relationship expert, and who shared it online with names omitted. Read what the man shared below and see the screenshot conversation below
SEE ALSO: Readers Mail: For one week, I decided to SLEEP with my boyfriend whenever he wanted (This is what happened)
Good Evening, my hand is shaking as am typing this. Wasn't sure of sending this before but am sure now. It's by the Grace of God that I didn't beat her.
I just want her out of the house will all her belongings. My daughter is with my mom so it's okay. She will remain there. My current trauma as seen fit by God. My wife of 6 years has been acting strange for months now.
She Denys me s3x, I beg and beg her for sex, she gives me cold feet, she doesn't cook, she doesn't appreciate anything. I believe maybe because she put to bed last year January that's why. She doesn't want more baby's now.
I receive the shock of my life when on arrival home today. My wife is protective of her mobile device. I watch her closely because am already suspecting her of cheating. Before the phone locked I grab it. My wife followed me and gave me the fight of my life. I never knew she has such stamina and energy.
She fought me with her nail and teeth. I have scratches all over my neck. I ran into toilet and lockup. She started shouting that how will I invade her personal space.
On reading her WhatsApp, I found this email featuring this guy telling my wife not to sleep with me. That he will beat her up. This is the greatest shock of my life. I took screenshots and email the images of the chat to my phone, office email.
On coming out of the toilet. She was crying by the step and begging. She loves me. She will die. It was because I pushed her away. Am making her feel less than a woman. now I remove myself from our residence to avoid my temper landing me in an issue. I sent the chats for your audience and so people can know the truth about her.
God save me. My mother warned me not to wed her. Am doing okay. I will do the needful and send her to her parents. Am done with this relationship. Am not even considered about who the man is. One mind asks me to call the number. But, my wife is aware and an adult. I will write you of any development. Am in pain. Hope you share. Great work bro.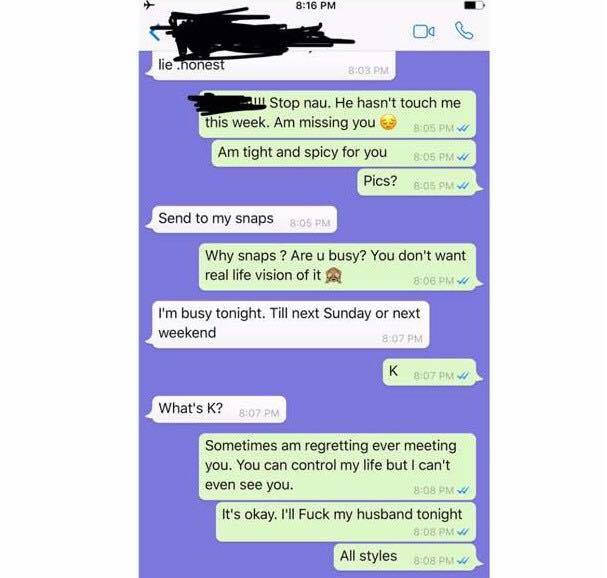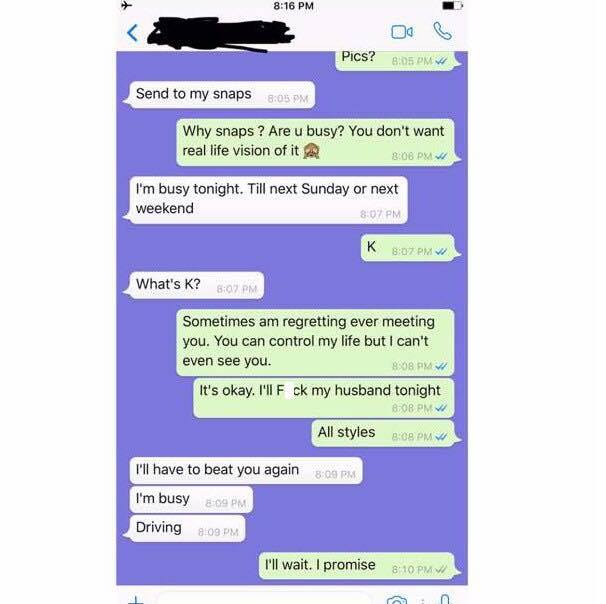 SEE ALSO: Readers Mail: For one week, I decided to SLEEP with my boyfriend whenever he wanted (This is what happened)