Becca will be getting married tomorrow Saturday, August 18 just as GHPAGE.com reported.
Becca will be having her engagement before a white wedding on a later date. Actress Yvonne Nelson sort of confirmed has she stated the role she will be playing in Becca's 'big day' tomorrow.
In an insta-post the award-winning actress and a good friend of Becca wrote;
"I call her BECS ? happy birthday superstar @beccafrica ?????? can't wait to see you this Saturday. I'm gonna smile soooo hard. God bless you????I'm def cooking yn* jollof for you ?"
The man Becca will be marrying tomorrow is yet to be identified.
A lot of the fans are wondering who the 34-year-old singer has been dating since came into the limelight with "You Lied to Me" in 2007.
GHPAGE.com brings you some of the men Becca is rumoured or reported to have dated before meeting this 'yet to be unidentified' man.
We cannot readily confirm but they were widely rumoured. Now let's take a ride.
1.Bisa Kdei
Becca got very close his colleague musician, Bisa Kdei and their closeness brought hit songs like "B?shiwo" and "Hw? de? ?d? ay? me remix".
However, many people believed there were more to their closeness or what the two described as friendship.
A Video even emerged where Bisa was captured kissing and smooching Becca in the dark– still, the two severally denied any amorous relationship.
If they lied and indeed there was a relationship, then they broke up somewhere in 2017.
2. Kiki Banson
Kiki Banson is the man who brought Becca to the limelight.
After auditioning for TV3's Mentor reality show, Becca dropped out and was immediately signed by Kiki's EKB records. Not long after joining EKB, Becca released her first album 'Sugar.'
It was this album that had the much acclaimed 'You Lied To Me' track and the rest you know already.
For about 10 years, Kiki Banson had acted in multiple capacities as far as Ghanaian musician-Becca is concerned—and apart from famously being Becca's manager, it was alleged at a point that they had more than an ordinary working relationship going on.
They parted ways or ended any kind of relationship in 2015. Which the rumours continued that she left because their love relationship did not work out.
3.Sonnie Badu
After Sonnie Badu married his wife Marie-Anne Davis in 2014, there were some reports suggesting that the gospel singer had 'used and dumped' Becca.
READ ALSO: Man wanted a mallam to cast a love spell on Ahuofe Patri
The rumor rifed that, during the relationship, Sonnie promised Becca marriage but left her and went on to marry his wife was then a 'born one'.
4.Agyemang Badu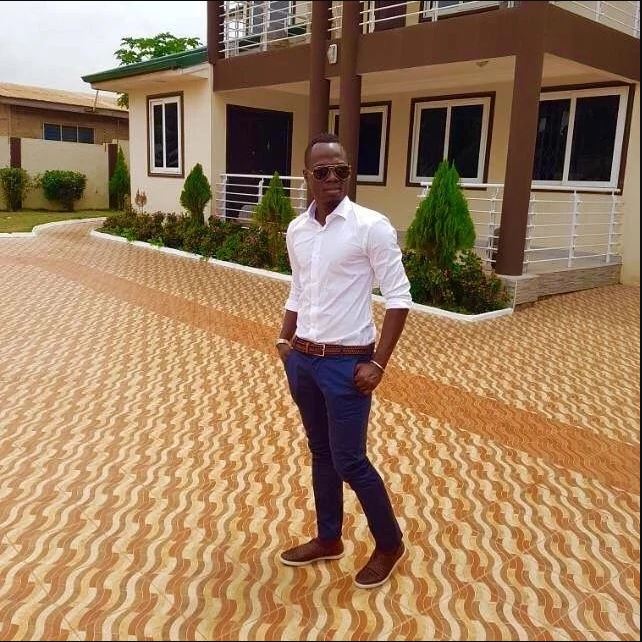 One fallouts from Ghana's shambolic display at the 2014 world cup was that Becca slept with a Black Star player believed to be Agyemang Badu.
Becca among others like John Dumelo, Jackie Appiah were ambassadors sent to Brazil to entertain supporters who had been sent to support the Black Stars.
READ ALSO: 5 Major issues from Ebony Reigns death that are begging for answers
After the team came back from the tournament and was held accountable because of their disgraceful on and off display, it was widely reported that Becca had gone beyond entertaining supporters to entertain Agyemang Badu.
The rumours were so rife that Becca had to release a press statement to deny the allegations.
5.Blak Cedi
Stonebwoy's manager, Blakk Cedi was rumoured to have dated the songstress.
He sort of confirmed the rumors when he posted a picture (above) of him with Becca with the caption; '"Pre-Wedding Photoshoot With My Beautiful @beccafrica ??".
If Blakk Cedi's public affection for the Songtress is anything to go by, then they had a short stint of relationship, you can say.
6. Nana Appiah Mensah
Almost all the women (Becca, Benedicta Gafah, Zynnell Zuh etc.) signed unto Zylofon media has been linked, rumored or reported to have had an affair with their boss, Nana Appiah Mensah.
The rumours of Becca dating Nana Appiah Mensah aka NAM1 have been so rife that she has had to come out deny it.
Speaking in a recent interview on Hitz FM, she explained that although the Zylofon Media boss is very handsome, he is married and that makes it impossible for her to date him.
"Well. I'm a beautiful woman. I've heard a lot of rumours. No sir and I'm not really bothered about that. I think he is a good looking man, he's hard working and is making things happen. Unfortunately for me, he's married so I don't want to go there," the singer said.
Born Rebecca Akosua Acheampomaa Acheampong celebrated her 34th birthday , two days ago, August 15. She has churned out hit songs like "You Lied to Me, "Forever", "Push" among others.