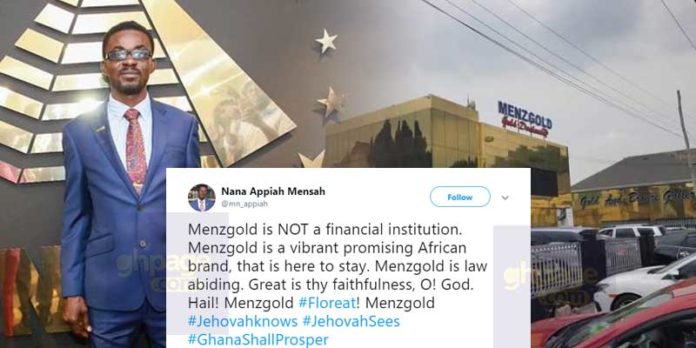 The Chief Executive Officer (CEO) of Menzgold Ghana Limited, Nana Appiah Mensah, has resurfaced once again after a long-term hibernation following Deputy Finance Minister's claim that it is over for Menzgold.
For a while, Nana Appiah Mensah had been quiet on social media and the last time he made a comment concerning Menzgold and its customer-related issue was in October when he urged customers to remain calm and assured that "we will pay you" but on Thursday, Nana Appiah took to Twitter as usual and made a comment on the matter.
Read also: Accra: Man shock bankers as he stormed UniCredit with a mattress to sleep
The Deputy Minister for Finance, Charles Adu Boahen is reported to have said yesterday that it is over for Menzgold and there is no way it will be allowed to operate in Ghana again.
According to the report, Mr Charles Adu Boahen was speaking at JoyBusiness Financial Service Forum themed "The Changing Tide of Ghana's Financial Service Sector: The Cause, The Cost, the Clean up" when the issue of Menzgold came up.
Read also: "It shall be well" – Menzgold pleads with investors to be patient
Answering a question on the possibility of Menzgold working operating again and it's responsibilities to pay customers their principal, the Deputy Finance Minister of Ghana said:
"With the Menzgold issue, I think it is clear that the end is here; He is done". Menzgold's activities came under the SEC regulations and what they were doing was considered to be trading and they did not have a license to trade so in the current capacity of what they were doing their license has been revoked and they have not been able to provide any evidence why they should be reinstated."
Read more: Abronye DC reveals secrets in Menzgold and why SEC went after them
"So as far as I'm concerned from what I understand from the SEC they are not allowed or they do not have the license to trade. However, nothing prevents them from paying depositors back."
But according to NAM1 in his tweet, Menzgold is not a financial institution as people claim, adding that the company is here to stay.
Read this: Asamoah Gyan to lose GH¢1.5 Million investment if Menzgold collapses
"Menzgold is NOT a financial institution. Menzgold is a vibrant promising African brand, that is here to stay. Menzgold is law abiding. Great is thy faithfulness, O! God. Hail! Menzgold #Floreat! Menzgold," he wrote.
https://twitter.com/mn_appiah/status/1058092977002856449/
Read also: NAM1 a fraudster? Gideon Aduku's comments in retrospect
Menzgold was ordered to shut down by the Securities and Exchange Commission of Ghana (SEC) for violating operational permit.