Ponzi scheme according to the various definitions can be simplified as 'robbing Peter to pay Paul'. It is an investment fraud that pays existing investors with funds collected from new investors.
The orchestrators often promise to invest your money and generate high returns— well-above-average— with little or no risk.
But in many Ponzi schemes, the organizers do not invest the money. Instead, they use it to pay those who invested earlier and may keep some for themselves.
Also, they use vague verbal guises such as "hedge futures trading", "high-yield investment programs", "offshore investment" or a "commodity" to describe their income strategy.
READ ALSO: Meet William Atsu, NAM1's "Partner In Crime" according to Gideon Aduku
Mostly, the schemer takes advantage of a lack of investor knowledge or competence, or sometimes claim to use a proprietary— secret investment strategy—in order to avoid giving information about the scheme.
The name 'Ponzi' was named after Charles Ponzi, the notorious schemer whose name became so synonymous with the scam that it now bears his name.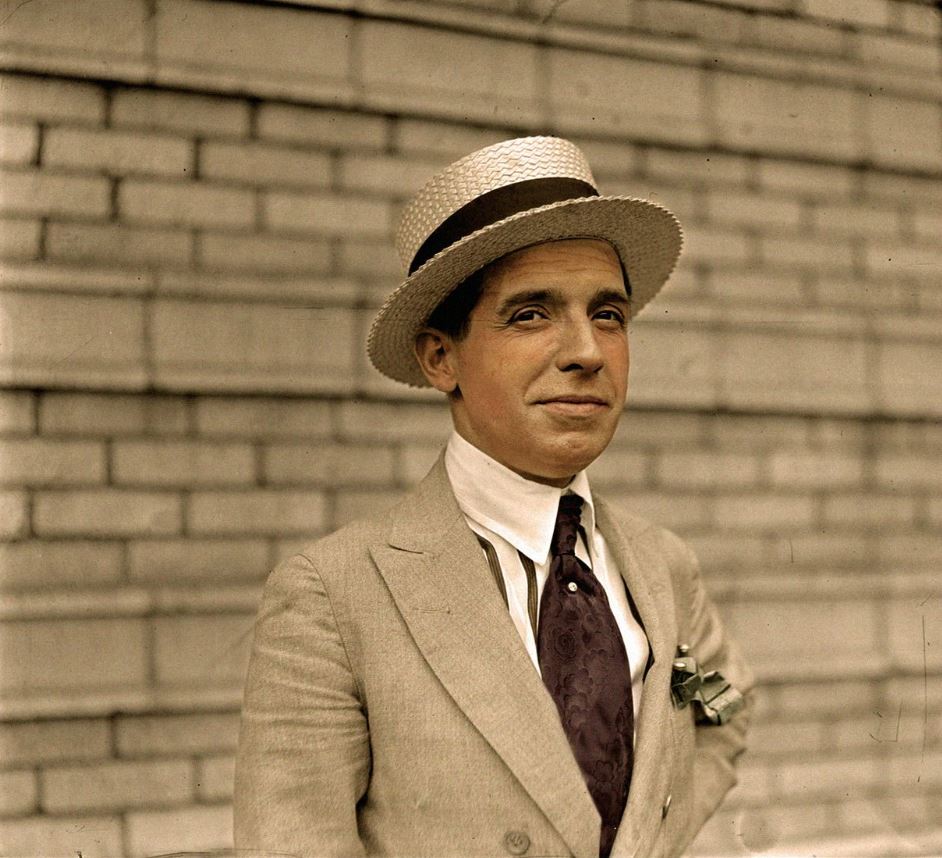 Charles Ponzi in the 1920's used this idea to scum many people in New England where he promised a 40pc return on their investment in just 90 days, compared with 5pc in a savings account.
His plan was to make money by taking advantage of the difference in exchange rates between the dollar and other currencies to buy and sell international mail coupons at a profit.
By May 1920, his scheme was an amazing success. He had made $420,000 ($6.13 million in 2018 money).
By June 1920, people had invested $2.5 million in Ponzi's scheme and by July, he was raking in a million dollars per week and rising. By the end of July, he was approaching a million dollars per day.
Inevitably, when his scheme collapsed, it turned out he had only ever purchased about $30 worth of the mail coupons on which the scheme was based.
The strategy/Characteristics
This get-rich-quick scheme has proved too alluring for other scoundrels to pass up. The basic framework of a Ponzi scheme can be applied and reapplied in countless contexts – but the central method remains the same.
With some revolving their modus operandi around a commodity and with the details of the investment which don't matter too much to most of the investors —all they have to do is hook a few investors who are willing to get in early on a once-in-a-lifetime business 'investment' venture.
READ ALSO: NAM1 a fraudster? Gideon Aduku's comments in retrospect
After the schemer has convinced a handful of investors to dish out their money to invest, those funds can secure a nice car —or, if the schemer is truly sneaky, he or she can use it to rent a plush office space and buy some fancy furniture and slice off some for him/herself, of course.
There has to be something plausible to attract or buy the trust of new investors. Think of bankrolling the money in something the majority of the people have some interest in—entertainment, sports—you name it.
Now, ready to find more investors so these props will help persuade the next round of investors.
So when the new investors are in, the scheme will use their money to pay the first investors—rather than from profits of the product or commodity you were told it was going to be traded on.
Eventually, the second group of investors will need its payout. This is a simple matter of wash, rinse, dry and repeat: The money from a newly recruited third group of investors can pay off the second group and deliver more returns to the first group.
But as the cycle goes on, it gets more complicated.
With little or no legitimate earnings or financial returns for the scheming company which requires a constant flow of new money to survive— if it then becomes hard to recruit new investors, or when large numbers of existing investors cash out,— unsustainably, these schemes tend to collapse.
Ponzi Scheme "RED FLAGS";
Many Ponzi schemes share common characteristics and these are some of the warning signs:
High returns with little or no risk. Every investment carries some degree of risk, and investments yielding higher returns typically involve more risk. Be highly suspicious of any "guaranteed" investment opportunity.
Overly consistent returns. Investments tend to go up and down over time. Be skeptical about an investment that regularly generates positive returns regardless of overall market conditions.
Unregistered investments. Ponzi schemes typically involve investments that are not registered with the SEC or with state regulators. Registration is important because it provides investors with access to information about the company's management, products, services, and finances.
Unlicensed sellers. Federal and state securities laws require investment professionals and firms to be licensed or registered. Most Ponzi schemes involve unlicensed individuals or unregistered firms.
Secretive, complex strategies. Avoid investments if you don't understand them or can't get complete information about them.
Issues with paperwork. Account statement errors may be a sign that funds are not being invested as promised.
Difficulty receiving payments. Be suspicious if you don't receive a payment or have difficulty cashing out. Ponzi scheme promoters sometimes try to prevent participants from cashing out by offering even higher returns for staying put.
Meanwhile, with the lot been said about Menzgold and its CEO Nana Appiah Mensah since the Securities and Exchange Commission authorized the gold investment company to shut down in a letter dated 7th Sept. 2018.
Ghpage.com discovered that the product or commodity 'gold' Menzgold sold to their investors were not pure gold as the company made its investors believe.
The chapter 2 of the contract signed between Menzgold and the investors specifies the commodity being sold to investors as Gold – Aurum Utallum (AU Metal).
However, Aurum Utalium (or Utallum) is a term often used by criminals who distribute fake "gold offers". Aurum (AU) means Gold but there is no such word or mineral in Latin as Utalium.
Because the terminology "Aurum Utalium" does not and cannot represent the true gold, the word was used in courts in some countries, to defend fake gold criminal dealers, as the criminal never offered "Aurum" but "Aurum Utalium" which is the name of the fake and fraudulent yellow, shiny metal, that contained no gold inside. It is brass and alloy of several metals but never a precious metal so definitely not gold.
A "dealer" of gold that uses "Aurum Utalium" is not a dealer. A licensed dealer is forbidden by laws to misrepresent the gold as a precious metal, and every true and genuine dealer of gold knows that gold cannot be named "Aurum Utalium" but "Aurum".
Moreover, a trip to NAM1's instagram post which he made a day after SEC has issued out their warning has had about 1,000 comments with some investors troubled about the turn of events so far;
READ ALSO:Menzgold sold fake gold called "Aurum Utalium" to investors as pure gold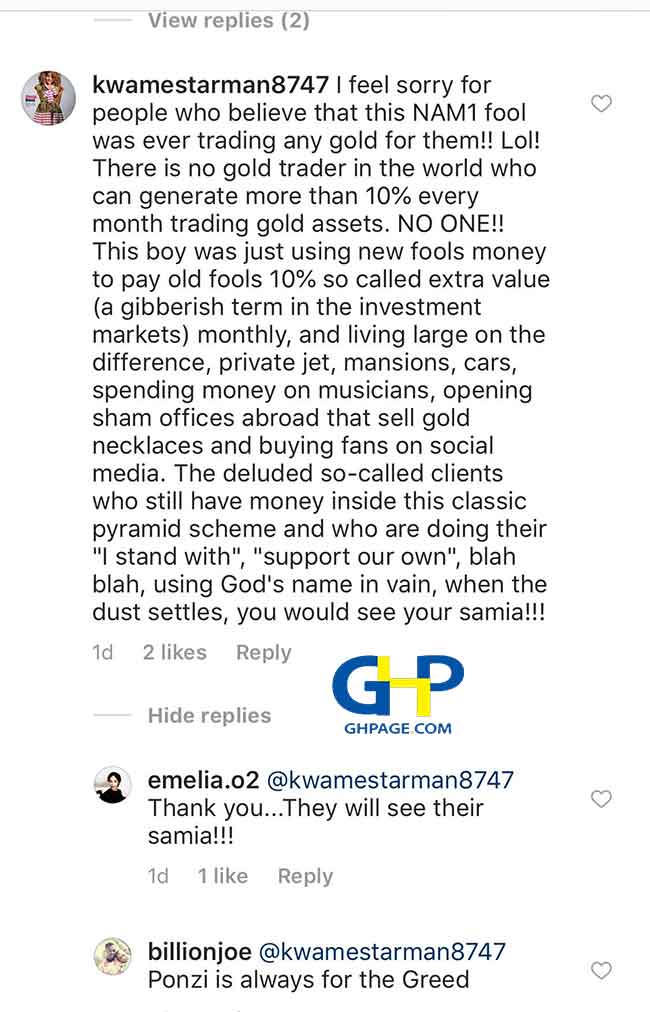 READ ALSO:Educated people sat for small boy NAM1 to dupe them-Ken Agyapong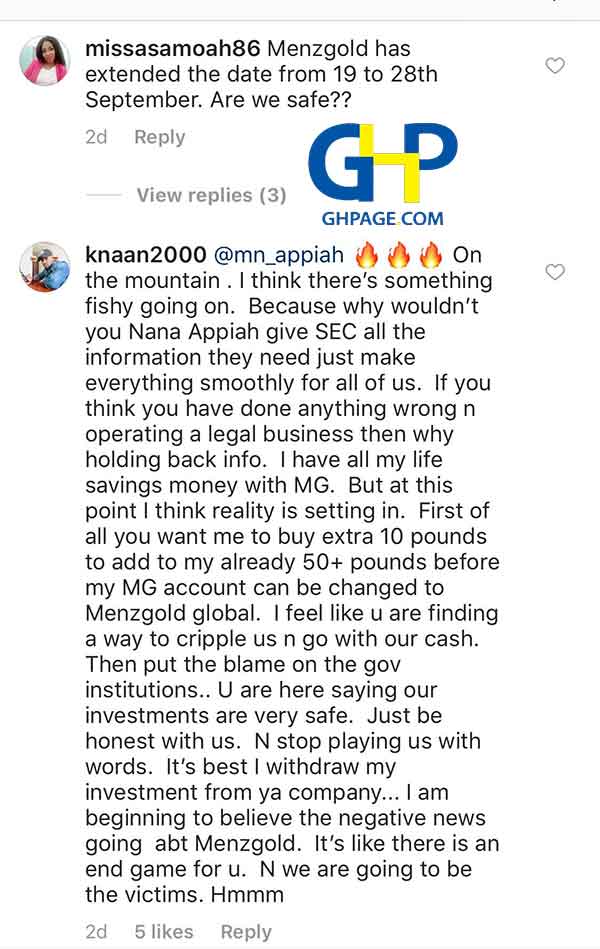 READ ALSO:Menzgold finally meets with SEC
It had a lot of people including some celebrities 'standing with them' too
Also, the executives of Menzgold has finally met with the Securities and Exchange Commission to deliberate on how to resolve the ongoing legal tussle between the regulator and the 'gold dealing investment' company owned by Nana Appiah Mensah.