Ghanaian socialite and media personality, Abena Korkor has waded into the ongoing conversation surrounding the anti-LGBTQ+ draft legislation aimed at criminalising the practice of homosexuality in Ghana.
Following the presentation of the Private Member Bill (PMB) to parliament, scores of Ghanaians including celebrities have kicked against the document which they say tramples on the right of LGBT folks.
The likes of Sister Derby, Wanluv and Pappy Kojo are among many others who have spoken against the bill.
The latest to join the bandwagon is former TV3 presenter, Abena Korkor. She took to her Instagram page to share a music video by Angel Maxin which features Sister Derby and Wanlov the Kubolor to throw her full support against the criminalization of LGBT activities in Ghana and suggested that she could be one of such people.
She captioned the clip: "I know a lot of people personally who are born this way. You never know I might be one. There are amazing people who deserve every right to live in peace so they can contribute productively to society. #lgbtqlivesmatter"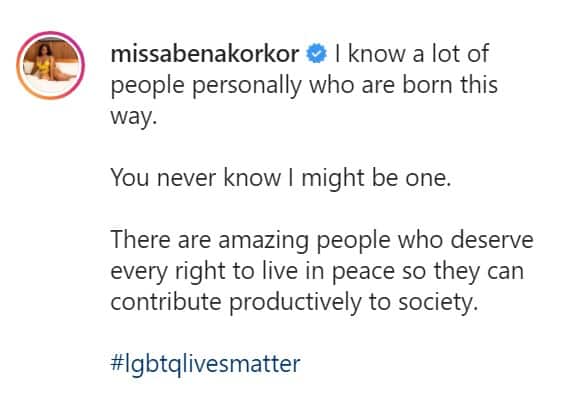 The much-talked-about draft legislation comes under the name: The Promotion of Proper Human Sexual Rights and Ghanaian Family Values Bill 2021.
The 36-page proposed bill is to ensure "proper human sexual rights and Ghanaian family values; proscribe LGBTQ+ and related activities; proscribe propaganda of, advocacy for or promotion of LGBTTQQIAAP+ and related activities; provide for the protection of and support for children, persons who are victims or accused of LGBTTQQIAAP+ and related activities."