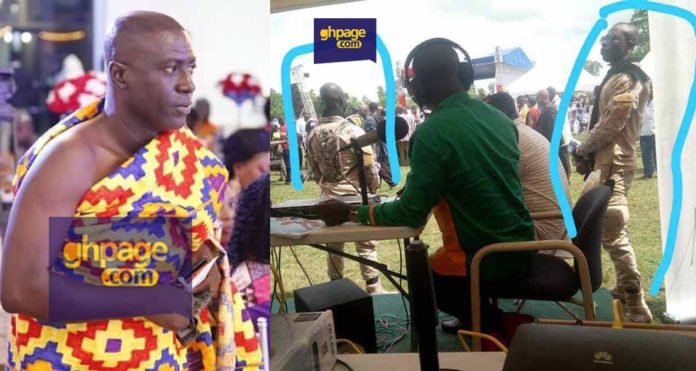 We reported about the alleged arrest of Adom Fm morning host Captain Smart at the National Congress of the ruling party NPP which came off last weekend at the Koforidua Technical University in Koforidua.
According to what our sources revealed, he was arrested alongside his bodyguards who were dressed in military attire for illegally possessing weapons on them as protection during the event.
Also Read: Owusu Bempah sponsors staff of Despite group with credit to insult Evangelist Addai
Fast forward, Multimedia group limited owners of Adom Fm and its affiliates have disowned its Morning Show host, Captain Godsbrain Blessed Smart after his arrest.
Public Relations Officer for the Eastern Regional Police, DSP Ebenezer Tetteh who had earlier confirmed the arrest of the Broadcast Journalist during the New Patriotic Party (NPP) delegates conference, indicated that they were holding an unlicensed weapon among others.
Also Read: Police reveal why Captain Smart was arrested at NPP delegates conference
DSP Ebenezer Tetteh revealed they retrieved an unregistered pistol, handcuffs, barrette, Taser, and a walking stick which turned out to be a knife from Captain Smart and his bodyguards.
However, Captain Smart himself denied been arrested as reported by some media portal, the Police Chief contradicted his claim and revealed the matter had been referred to the National Security for further investigations after Captain Smart and his two bodyguards were interrogated and released on bail.
Also Read: Adom FM presenters replies Evangelist Addai over Illuminati claims
A statement issued by the Multimedia Group on Friday, July 13, 2018 read'
"The attention of Management of Adom 106.3 FM has been drawn to reports in the media that Godsbrain Blessed Smart, a.k.a. Captain Smart, host of Adom FM's Morning Show, Dwaso Nsem, was picked up for questioning by the Police on Saturday, July 7 2018 at the NPP National Delegates Conference, which took place at Koforidua, Eastern Region.
Captain Smart was part of a team from Adom FM 106.3 FM who were dispatched to cover the Conference.
From the reports, Captain Smart was arrested together with his bodyguards. The reports allege that his bodyguards, who were dressed like military men, were wielding unauthorized guns and other unauthorized accoutrements.
We understand from the reports, that National Security Officers present, took over the case and subsequently granted bail to Captain Smart, after interrogation. The matter is currently being investigated by National Security.
We wish to state that the Management of the Adom FM has neither assigned any personal bodyguards to Captain Smart nor do we know of any and that his actions, if true as alleged, were neither sanctioned nor condoned by us.
Even though we have commenced internal investigations into the matter, we will await the outcome of the National Security Investigations, upon which further action will be taken if necessary."
By Management of Adom 106.3 FM