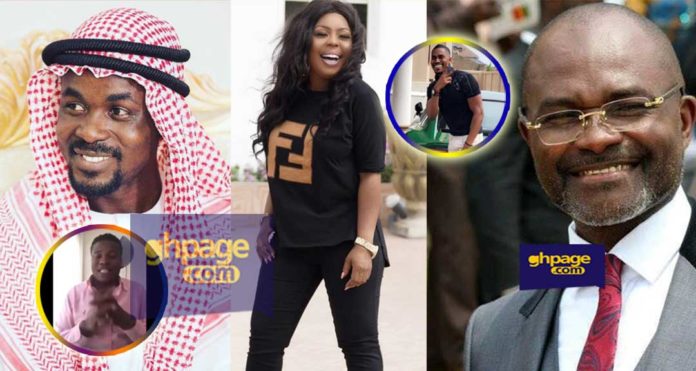 A UK based Ghanaian who goes by the name KOD claims he is the brother of NAM1 and that NAM1 doesn't stay a day in the UK when he visits until he calls him.
This guy has put Afia Schwarzenegger, Kennedy Agyapong and Ibrah One on blast for daring to criticize Nana Appiah Mensah following the order of closure from the Securities and Exchange Commission.
SEE ALSO: Watch the video Afia Schwarzenegger's mother weeping after investing GH¢4.3 Million with Menzgold
According to this KOD guy, Afia Schwarzenegger and her mother have been paid by some group of bank owners in Ghana to tarnish the image of Menzgold. The guy added that Afia's mother has no money invested with Menzgold, they are only doing propaganda and he is speaking on authority.
The guy also revealed Kennedy Agyapong and other politicians have ganged up against NAM1 because they hate his success and wish to be like him.
SEE ALSO: NAM1 Exposes Ibrah One – Explains why he has been 'hating' him all these years [Read their WhatsApp Chat]
He went on to add that Ibrah One has been launching needless attacks on his brother out of envy since NAM1 is successful and well respected and he has none of those.
WATCH VIDEO
SEE ALSO: NAM1 is hiding in Nigeria after stealing millions of Ghanaians money-Afia Schwarzenegger [Watch Video]
However, most people who have watched the video of this KOD guy claiming to be the brother of NAM1 have described his argument as empty and frankly lacking basic common sense.
If Afia Schwarzenegger's mother has no money invested with Menzgold and she has declared such a huge campaign against Menzgold, everyone would have expected a company such as Menzgold to sue Afia as fast as possible.
SEE ALSO: Bank of Ghana freezes NAM1's bank accounts over Menzgold brouhaha – Afia Schwar 'exposes' NAM1 [Details+Video]
Refusing to do that only to allow some so-called brother to rant on social media indirectly shows how on serious Menzgold is.
Also, social media users who commented on his post exposed him as someone who has no relation to NAM1 and may not have even met him before.
SEE ALSO: Did Lordina Mahama invest 4 million Cedis with Menzgold?