Finally, Nana Aba Anamoah the veteran media personality has reacted to the allegations of pimping leveled against her by two most controversial Ghanaians.
Nana Aba has responded to Kennedy Agyapong and Afia Schwarzenegger's allegation that she Pimps female celebrities and Slay Queens to big men in Ghana.
SEE HERE: Nana Aba Anamoah accused of being the biggest Slay Queen Pimp in Ghana
Almost a week after the allegation went viral, Nana Aba Anamoah has taken to her Twitter page to speak sense to her accusers.
The GHOne news editor revealed she is a giant slayer just like David and as such, she won't waste her time using her weapons on ants.
Nana Aba Anamoah who quoted Dr. Micheal Boadi Nyamekye added that she has chosen her battles since God's anointing is on her.
SEE HERE: Nana Aba Anamoah allegedly dating Dr. Kofi Amoa-Abban
Nana Aba Anamoah tweeted:
"Giant slayers don't waste weapons on ants. When God places his oil on you, you choose your battles. Choose your battles. It is not every battle you fight".Dr. Michael Boadi Nyamekye, Makers House Chapel International.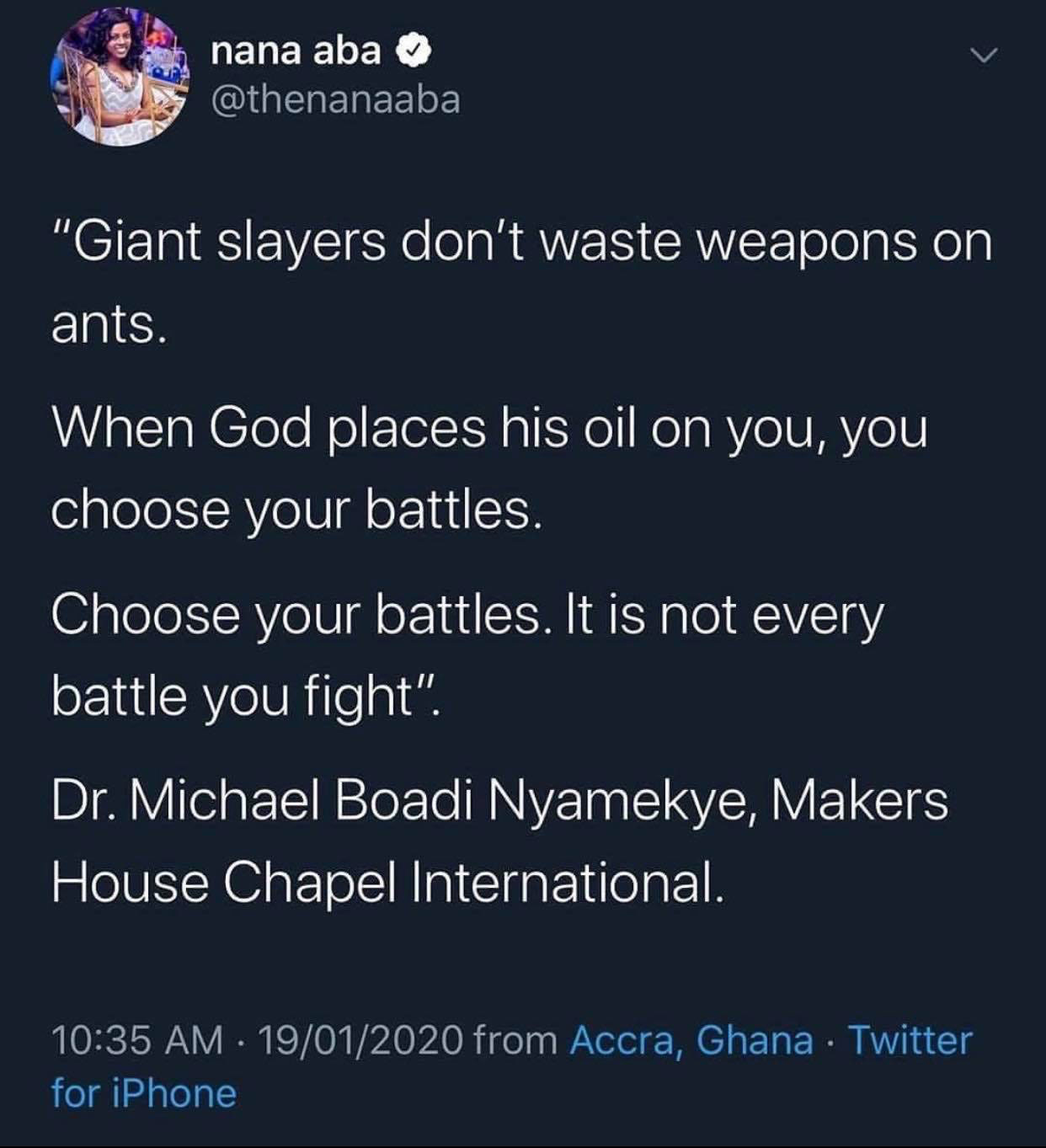 Kennedy Agyapong started the rumors when he alleged after Kan Dapaah-Chantelle leaked tape that a veteran journalist is the pimp supplying girls to politicians.
SEE HERE: Nana Aba Anamoah accused of pimping Serwaa Amihere to a chief who bought her a Mercedez car
Although he did not mention any name, Afia a Schwarzenegger and other Ghanaians on social media confirmed it was Nana Aba Anamoah Kennedy Agyapong was referring to.