President Nana Addo Danquah Akufo-Addo is currently making trends in many news headlines as the peacemaker in town over new Ya-Naa's Enskinment.
Serving as a peacemaker, President Akufo-Addo has received several praises for successfully working the long-standing arbitration process in Dagbon, one of the traditional kingdoms in Ghana.
Many people in Ghana deemed that Nana Addo has become the darling boy to the Northerners for making peace on a long-struggling conflict.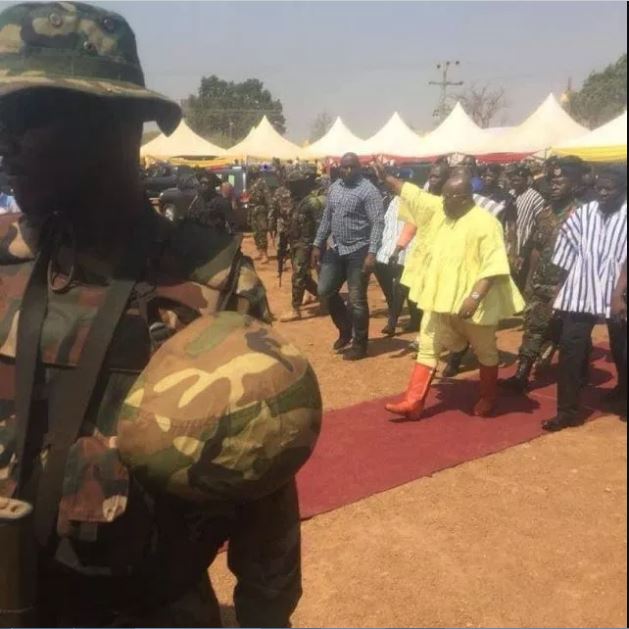 On today, Friday, January 25, when the new Ya-Naa of the kingdom was being outdoored after the prevailing of peace, President Nana Addo Dankwa Akufo-Addo appeared as one of the chiefs.
Upon the President's arrival, the people of Dagbon welcomed him with a heartwarming celebration, and the scene deserves a look of the physical eyes.
Obviously, there is a sense of peace at last in the midst of Dagbon people, people from various political parties, ethnic groups celebrate together to welcome Nana Addo as they outdoor the new lord.
Watch the video below…
https://youtu.be/VlwCaW_gl40
Nana Addo in his speech at the honorable event stated as a commitment to the new enskinment chief that he will do everything in his power as a president to assist his ruling in a process of peace and tranquility.
The President added that he's neither on any side, whether Abudu nor Andani but rather stands for unity, reconciliation, and progress in Dagbon-calls himself Abudani.
He further urged the people of Abudu and Andani of Dagbon to establish peace ground as they make this event a paid method for their long struggle.