For the first time, the 2nd wife of Mr. Kwesi Nyantakyi, Mrs. Christine-Marie Nyantakyi has spoken publicly about the unfortunate situation her husband, the former President of the Ghana Football Association has landed himself in.
Mrs. Christine-Marie Nyantakyi granted a half an hour interview with Paul Adom Okyere on Good Evening Ghana on Metro TV and among other things, she spoke about how her husband was trapped by the Tiger Eye Team led by investigative journalist, Anas Aremeyaw Anas.
SEE ALSO: We lack evidence to prosecute Kwesi Nyantakyi – Attorney General
According to the woman who was very emotional throughout the interview, her husband was trapped by the Tiger Eye Team knowing perfectly well Nyantakyi was desperate to get a sponsor for the local league and will fall for anything.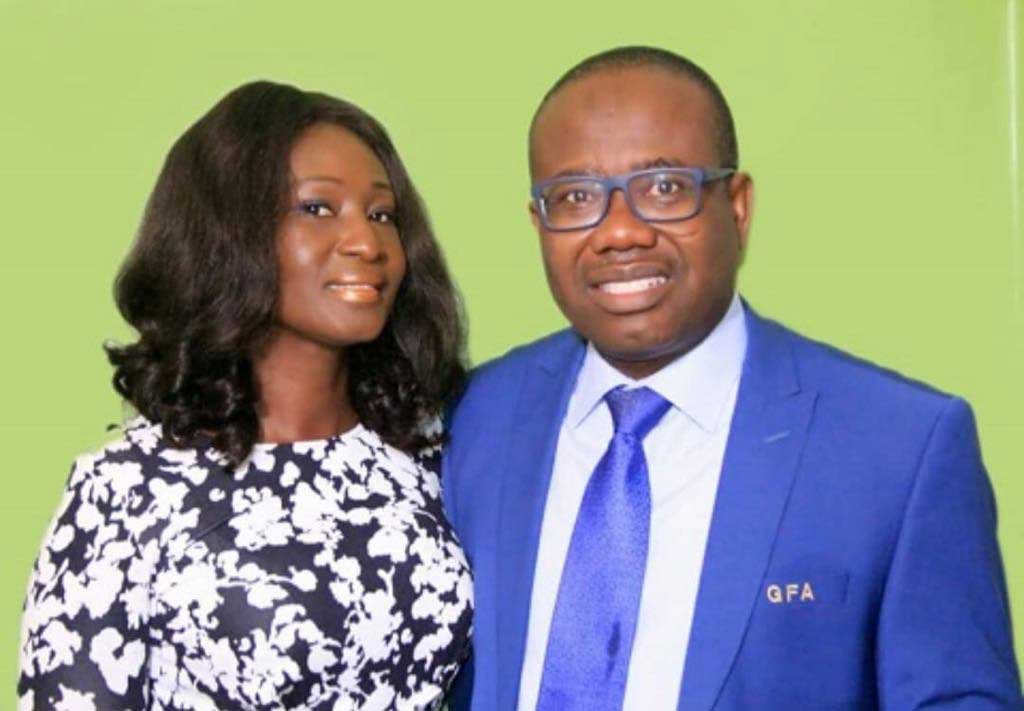 Mrs. Christine-Marie Nyantakyi explained that, although Nyantakyi was skeptical with the intentions of the so-called investors from Dubai who wanted to invest in the league, he trusted Abu, the Northern Regional FA president who led them to him.
SEE ALSO: Anas exposé has helped Ghana football – Isaac Asiamah
And again, the League has been without a sponsor for so long he wanted to desperately get one for the country so he ignored his intuitions and ended up falling for the trap.
The wife of Kwesi Nyantakyi added that, although Nyantakyi made some mistakes as the Ghana Football Association president, his success and good intentions far outweighed the mistakes.
"But it's so painful to see a man who has served Ghana football; I am not saying whatever he did was right; I am not here to say he's right or wrong. What I am saying is that this is a man who has spent thirteen years of his life serving Ghana football. He made some mistakes. The Akans say that the one who goes fetching water breaks the pot. What does that mean? It means that once you're making an effort to perform an activity, there's a possibility that you will slip and you will break the pot."
SEE ALSO: "Satan" called NAM1 and Kwesi Nyantakyi his proud sons
"So in doing his work, he has made a mistake; fine; but there are rules, regulations, processes or procedures to find him guilty or not guilty. Why can't we all wait for that thing to be done; than for people to try him in public; and say all sorts of things as if he's committed murder or a treasonable offense?" Emotional Christine asked.
"Kwesi represents Africa; he represents Ghana at Fifa and at CAF. He put Ghana on the world map. Do you know that hitherto, people thought Ghana was Guyana? So at least, people got to know that there's a country in West Africa called Ghana, and Guyana is in South America" she added.
SEE ALSO: Nyantakyi's life ban not surprising – M.anifes
Mrs. Christine-Marie Nyantakyi, who's the Director of Oasis Montessori School at Teshie Greda Estates also added that, contrary to the belief that her husband is rich, he is not.
The worried woman also revealed that her husband was given $40,000 by the Sheik on his second trip to Dubai and it was a reimbursement for his expenses and not a bribe as the Tiger Eye Team would want the whole world to believe.
WATCH THE INTERVIEW BELOW
In June 2018, Anas Aremeyaw premiered his corruption exposé centered on Ghana football. The exposé was nicknamed 'Number 12'.
SEE ALSO: Kennedy Agyapong Has No Idea On The Bribery Tape He Released – Tiger Eye PI
In the video, the Mr. Kwesi Nyantakyi who was the president of Ghana Football Association at the time was captured in various compromising position taking a bribe from the Tiger Eye Team who had disguised themselves as investors from Dubai willing to sponsor the Ghana local league.
Nyantakyi has since resigned and had equally been given a life ban from all football association by FIFA; although he has made it clear and was confirmed by the wife he intends to appeal that sanction.
SEE ALSO: Is Nyantakyi the new advertiser for Happy Man Bitters? New video circulating online suggest so