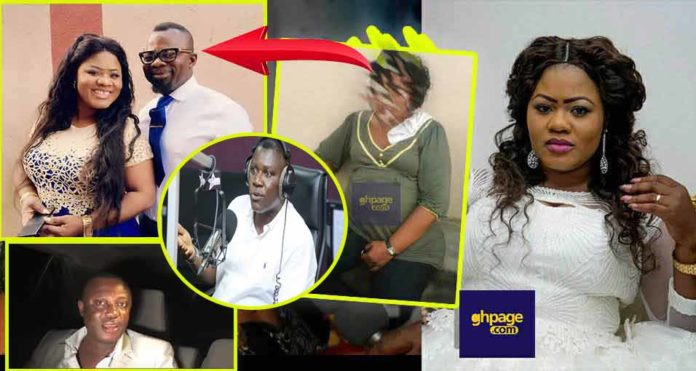 When old wounds are reopened it attracts a new set of flies. And that's what the former husband, Pastor Love of gospel musician, Obaapa Christy has just done.
A few days ago he reignited an issue we all thought had died out. He conducted an interview on Kofi Tv and what he described as setting the records straight revisited his marital issues which date as far back as 7 years ago.
He called Obaapa Christy who was formally called Christiana Love a demon who is also possessed because she left him whiles they were still married to snatch another woman's husband, Nana Yaw Frankie.
Obaapa Christy has so far not reacted again to her Pastor Love's recent reigniting of their marital issues.
So, it is in that regard,GHPAGE.com is bringing the audios of the damning allegations and what transpired between Pastor Love and  Obaapa Christy when issues of their 9-year marriage were being discussed on radio.
In Christy's defense and among other reasons why she called it quit was that Pastor Love rapped her little sister and their housemaid.
The Award-winning Ghanaian gospel musician revealed that Pastor Love Kweku Hammond, General Overseer of the Life Power Miracle Church enslaved and tormented her for the past nine years and that she could not bear it any longer.
"Pastor Love raped my younger sister who was staying with us. He threatened to kill the girl if she speaks the truth but she told my elder brother, Kwame, and he came for her and sent her to our hometown". She said.
"Pastor Love later asked the girl not to speak the truth but she says she only kept quiet to save my marriage and my music career…My husband even started chasing our housemaid and even slept with her while we were still married." She continued.
"There was also a lady who came to him for a consultation and he told the lady that he would have s*x with her because her husband would not marry her again…There have been several times he would pick the phone and propose to the ladies right in my presence and he would tell them that if he had seen them early, he would not have wasted his time to marry me," Christiana Love told Adakabre Adom FM.
READ ALSO:Obaapa Christy is a demon-Ex husband, Pastor Love
The gospel musician, speaking amidst tears, said Pastor Love had turned her into a punching bag and that he beat her up and tore her clothes at the least opportunity.
"He would look me in the face and call me the child of a prostitute, the child of a witch and tell me that he would destroy me until I do not even have money that can buy a sachet of water to drink," Christiana added.