Linsford Kwabena Asare popularly known as Otwinoko arguably is the greatest radio personality ever to steer the console in the Ashanti Region.
Otwinoko, in the 2000's started his mainstream radio at Mercury 91.5FM (now New Mercury 91.5FM).He commandeered a 'mysterious' program dubbed 'Nsem Pii'.
His program focused on spiritual issues affecting humanity but the one that shot him to fame is when a certain Yaw Donkor murdered Marfo, a palm wine tapper at Nyninahini.
Through his investigative intelligence, the issue was brought to light which eventually landed Yaw Donkor behind bars.
As his popularity increased, he got poached by then a newly established multimedia radio station Nhyira FM.At Nhyira, he increased listenership whenever it was time for him to steer the console for his program 'Ewiase Mu Ns?m'.
In fact, he reversed a trend. He made people watch radio sets and listened to television! He commanded radio in the evenings. His program had the largest listeners in Ashanti region.
He moved to fox fm and there began his woes.A few years later, it became a widespread rumor that he is dead.It later turned out not to be true but has rather gotten blind.
In a recent interview and as monitored by Ghpage.com, the 'muscular' Otwiniko has finally spoken extensively about the cause of his woes and how his troubles as a revered radio presenter got started.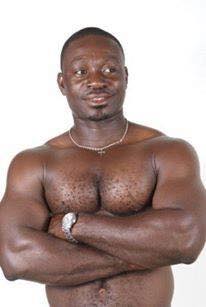 He disclosed that persons he personally trained in the media to host various programmes spiritually attacked him resulting in his blindness to the extent he laid in a hospital bed while his body was rotting away.
He particularly mentioned three key figures Agya Wusu,(Now with Sikka fm) Agya Brenya,(Still with Nhyira fm) Abasiriwa as those who masterminded with his close pal, Yaw Poku to engineer his downfall.
READ ALSO: Social Media Users Troll 'Akua Ghana's Most Beautiful' for being the 4th Wife Of The 'Old Rich' Dr. Kwaku Oteng(With Screenshots)
He summarized it and attributed all to pettiness, envy, 'pull him down' from most of the people he worked with.
Watch/Listen to the full interview below;
https://youtu.be/nw_Nja2YiI0
Otwinoko after his sickness worked with Accra based Hot FM for a while before moving to Kumasi to have a short stint with Abusua fm and has now settled with Kumasi fm.