A South African pastor has sparked uproar on social media after he allegedly ordered his congregation during worship service to strip off their clothes so that the Holy Spirit can penetrate them well.
Photos from these unholy events have found its way unto social media and have so far generated wild reactions from people on social media.
SEE ALSO: Disabled man invents water heater to sell to avoid alms on the streets
It is not clear when this exactly happened but the Twitter user who shared the photos claims it happened recently. Sharing the photos, the Twitter user wrote:
"Pastor tells worshipers to remove clothes so that holy spirit can penetrate easily," he captioned the post.
SEE ALSO: Benedicta Gafah sends out advice to those neglecting NAM 1
This is not the first such weird worship practices has been forced down the throat of a gullible congregation which found its way unto social media.
Ghana and Nigeria for instances have recorded situation where pastors bath women in the night in the name of driving away evil spirits. Some pastors even sleeping with their congregation under the guise if performing miracles.
SEE ALSO: Rev.Obofuor displays Rolls Royce Phantom 2019 and Trassaco mansion
Here are some photos of when the pastor ordered the church members to strip below
SEE ALSO: I regret abandoning my family for Shatta Wale-Michy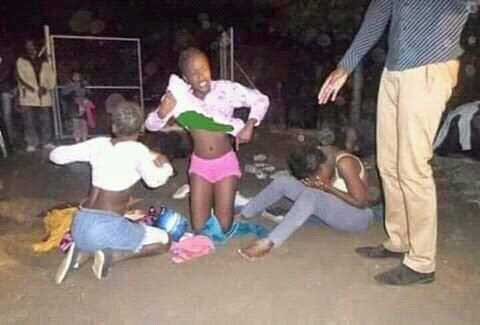 SEE ALSO: Police reveal how missing Takoradi girls were kidnapped