This is Patapaa, the "One Corner" hitmaker. The Agona Swedru based superstar is known in real life as Justice Amoah.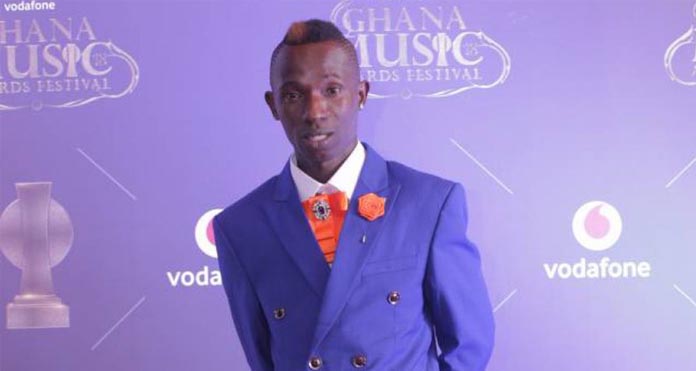 READ ALSO: First class travels, cars, houses & fashionable dresses-Check out the lifestyle of Jackie Appiah
There are some jobs Ghanaian Celebrities did before the Fame and of course, everyone needs to start from somewhere. An idle hand the devil finds a work for, the saying goes. So they had to find something doing before fame.
Life is really unpredictable, not good to put all your eggs in one bucket– it is advisable to have good and plans just in case our dreams do not become a reality.
READ ALSO: Meet The 8 Richest Young Guys In Ghana| Their Cars, Mansion & All Their Properties (Photos)
Your favourite celebrities you see on daily basis on your screens and hear them on your radio sets hustled and some struggled through life before they found fame.
Even before many people could know his name, Patapaa's instant hit song 'One Corner' had already become popular. The song was accompanied by a sort of 'electrifying' dance that had not been seen in the industry before.
READ MORE: 15 World Famous Celebrities You Never Knew Were Ghanaians | Some of The Names Will Shock You
The song also travelled out of Ghana, and in Nigeria especially, it was "everywhere", according to reports. 'One Corner', however, received many bashing from some members of the public.
Notable among them were Maame Dokono, Prophet Kumchacha, Sonnie Badu, and many others.
We bring to you the job Patapaa did before fame found him and 5 other facts you never knew about him.
READ THIS: Nana Aba Anamoah 'Punches' Mark Okraku Mantey In A Tweet And Social Media Is On Fire
1. He Was A Drinking Spot Worker
Patapaa in an interview on the Delay show revealed that he used to work as a bartender before he became popular. According to him, the spot is owned by his mother and as the eldest son, he offered a helping hand. In his own words, "I was pouring the shots for the people". Interestingly, Patapaa claimed that he does not take alcohol, "but only Guinness".
2. He's The Firstborn Of His Parents
Patapaa revealed also that he is the first born of three children.
READ THIS TOO: Video: The 'Oluman' tailor who designed Patapaa's oversized suit finally speaks
3. "One Corner Was His First Hit Song:
In the interview, he further revealed that he has over 70 songs but 'One Corner' was the song that shot him to fame.
4. He Has No Girlfriend
It seems Patapaa's knows how to console himself if things get tougher. In the interview with Deloris Frimpong Manso on the Delay Show, the "One Corner" hitmaker indicated that though he has no girlfriend, he knows how to satisfy himself s£xually he when feels the urge to do it.
"As an artist or a footballer when you are on stage performing, you will definitely get a girl who will be interested to go to bed with you…so once there is a show I will get a girl," he said.