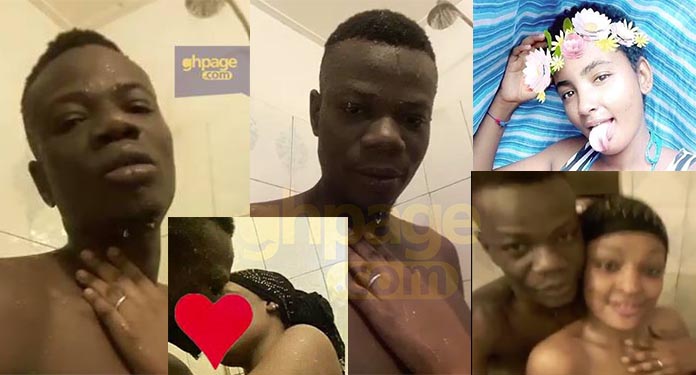 The trending news in Ghana now is the threesome video of a young lady, Aisha and 3 strong boys taking turns on her.
From the first video believed to be released by the guy below, the boys were seen doing everything from s*cking, l*cking, d*ggy and everything you can imagine and all was captured on camera, apparently with the consent of the girl.
Another seks tape of the embattled former student of St. Louis SHS, Aisha popped up online and it made most people who defended her when the first video came out regretted their actions.
In the video which many believed was recorded after she had her great time with the 3 guys in the bedroom, Aisha was in the bathroom with one of the guys perceived to be the real boyfriend doing their own thing.
Well, In this second video, both of them were nakked and they were caressing right under the tap.
read also: Mother of Aisha, St. Louis SHS girl in the released Atopa video speaks
It is believed the video was leaked by the guy whose face wasn't captured[the one who recorded the act] as a bait to always have his way with Aisha.
According to a friends narration, Aisha was enjoying some good time with her boyfriend when the boyfriend's close friend walked into them. The boyfriend convinced her to allow the friend to also have s*x with her which she obliged.
The third guy suddenly came inside the room and revealed he has recorded everything and he will only not leak it if she allows him to also have a piece of her; she had no choice but to allow him. And that is why we saw 3 guys chopping Aisha.
read also: Afia Schwarzenegger names her GHC 3000 dog "Kezia-Acid' after her rival
A formal complaint has been lodged by the mother to arrest the guys behind Aisha's seks tape.
Below are photos of the guy said to be the one behind all the leaked videos.
read also: Moesha Boduong exposed: Liposuction scar on her body revealed