A presidential staffer and Secretary to the Inter-Ministerial Committee on Illegal Mining (IMCIM), Mr. Charles Cromwell Bissue, has been named as the leading traitor opposing President Akufo-Addo's fight to eliminate illegal mining in the country.
In a new undercover work of ace investigative journalist, Anas Aremeyaw Anas and his Tiger Eye PI organization exposing corruption, which airs on a number of TV stations and Graphic Online today, February 27, 2019, Bissue appears as a facilitator for a company seeking to circumvent laid down processes to be given permission for its mining operations.
Mr. Bissue is captured in a secretly recorded video receiving bundles of cash to facilitate the speedy 'clearance' of a mining company in order that it can begin mining as soon as possible.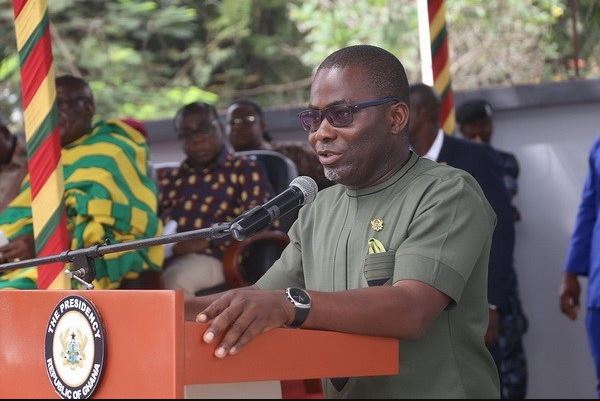 He was also heard in the video instructing his subordinates over the phone to "fast track" the processing of the company's documents.
Several others connected to the work of the IMCIM, otherwise known as the Presidential Committee on Environment and Natural Resources, are seen in the video playing "facilitating" roles at negotiated fees.
There are security officials, informants and go-betweens who offer to provide the company with information on the movements of a security taskforce against illegal miners.
Also, there are others who offered to provide armed guard for the company's authorization, actions that are in sharp contrast with the objectives of the very institutions they work with or purport to work for.
Watch an excerpt from the video below…
The Inter-Ministerial Committee on Illegal Mining, comprising the ministries of Environment, Science, Technology and Innovation (MESTI); Lands and Natural Resources (MLNR); Local Government and Rural Development (MLGRD); Chieftaincy & Religious Affairs; Regional Re-Organisation and Development; Water and Sanitation; Interior; Defence; and Information, was commissioned in March 2017 by President Akufo-Addo to sanitise artisanal and small-scale mining in the country as well as develop a roadmap towards lifting an indefinite ban on small scale mining that lasted about 21 months.
The committee is chaired by Prof Kwabena Frimpong Boateng, Minister for Environment, Science, Technology, and Innovation.
In addition, President Akufo-Addo also set up a joint security taskforce (Operation Vanguard) that rummaged mining areas in the country to enforce the ban, seize or destroy mining equipment of those who flouted the ban, as well as arrested offenders for prosecution.
The ban and subsequent setting up of the committee, which were widely endorsed nationwide, followed widespread devastation of farmlands and river bodies by small scale and illegal mining activities.
It was suggested at the time that if nothing was done to reverse the devastation, Ghana was soon going to have to import potable water as the country's rivers risked imminent 'death'.
However, allegations have been rife in recent times of the suspected complicity of some government appointees in facilitating the clandestine operations of illegal mining firms much against the national effort to clean up the space.
Those allegations have, as expected, been met with vehement rebuttals usually by those accused of complicity, or their associates.
But with the latest development as captured in Part One of Anas' Galamsey Fraud, it appears government has more on its hands to do to achieve that national objective.