According to Ama Born Again in an interview with Nana Yaw Sarfo on Vision One FM, She was deep into occultic matters when Nigel Gaisie contacted her that he needs help to solidify his church.
SEE ALSO: Audio: Prophet Nigel accused of acquiring his prophetic powers from a Juju he took from Gambia
Besides personally helping the renowned prophet, Prophet Nigel Gaisie who prophesied the death of Ebony Reigns months before it happened, she took him to a powerful oracle in Gambia where he finally obtained his heart desires.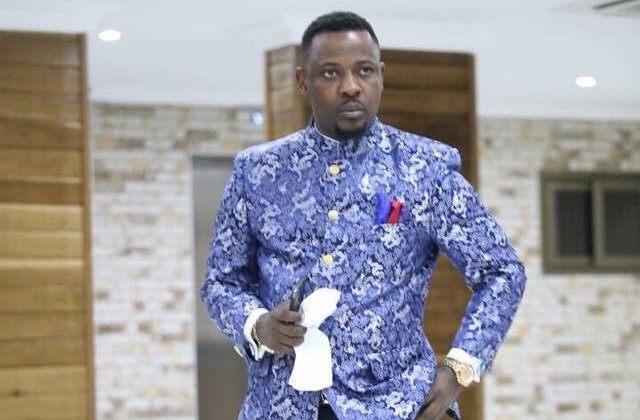 Prophet Nigel Gaisie has already come out to debunk the allegation and even went further to warn Nana Yaw Sarfo to be careful how he brings people on his show to slander pastors before the wrath of God descends on him.
SEE ALSO: Here's Ama Born Again -Prophet Nigel's confidant who helped him obtained Juju powers from Gambia [Watch Video]
Touching on the issue again during a service at his church, Nigel Gaisie revealed that indeed he knows the woman in question, Ama Born Again but every word said by the woman about him is a lie. Nigel revealed that the lady who made the allegation and goes by the name Ama Born Again's real name is Fausti (Thus Faustina) and he knows who is behind all the attempt to defame him.
He went on to talk about how people doubted and tried to pull him down when he started his ministry and how they have now started conniving to bring him down.
SEE ALSO: Audio: Prophet Nigel finally reacts to the "juju from Gambia" allegations – Issues a stern warning to Nana Yaw Sarfo
He Ended by saying all attempts by his distractors will not work because he will keep rising to the glory of God
LISTEN TO AUDIO BELOW
https://www.youtube.com/watch?v=CFM1-iDX5dg&feature=youtu.be
SEE ALSO: Man Of God Prophesies The Exact Date, Time, Venue, And How Prophet Nigel Gaisie Will Die – It's Soon