Adom TV's award-winning sports presenter, Patrick Osei Agyemang popularly known as Countryman Songo fired some questions on the President Akufo-Addo concerning Ghana sports during the first edition of this year's President encounter with the Press.
Countryman received an opportunity from the program's moderator Minister of Information, Mustapha Hamid to ask the president one question, but he wisely folded three strong questions into one and forced it on the president.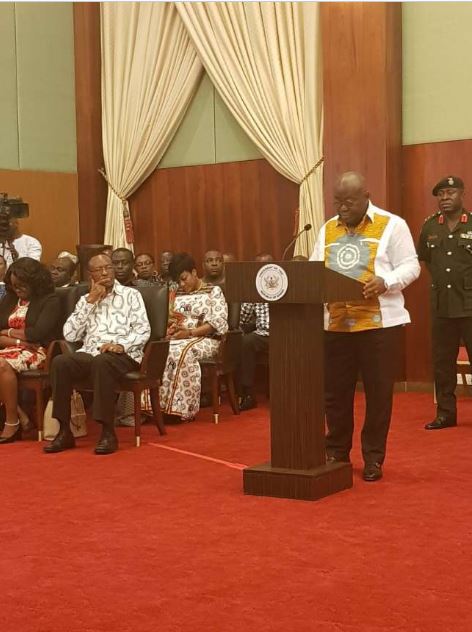 The award-winning presenter on his question line first quizzed on the report of the 2014 World Cup Commission of Enquiry report and demanded the President to make his interest stands on it.
Well, the President answered:
"In such matters, the truth is the best answer. To be honest, I had forgotten about the 2014 White Paper but I believe that my sports minister is looking into it."
Songo who is well-known for his tag "more fire" again asked the president if he is happy with the performance of his Sports Minister.
"I trust my sports minister is doing well," he replied.
The 'Adom TV Fire for fire' show host lastly questioned the President if he will somehow interrupt and call for change at the Ghana Football Association under the leadership of Kwesi Nyantakyi if enough evidence pops out that their output is not worth the input government is planting into football in the country.
For this one, the President disclosed that FIFA has its own rules in managing such issues of mismanagement by national associations and will, therefore, leave it to the world governing body.
He answered,
"My understanding is that the football administration body, by FIFA rules, is independent. I don't believe government should intervene… this a basic rule from FIFA; there should be no executive interference."
Watch The Video Below………