Ghanaian have torn Serwaa Amihere into pieces on social media for asking Strongman to apologize to all Ghanaian women for disrespecting Fella Makafui in his diss song "Immortal".
According to Ghanaians, Serwaa Amihere, the beautiful Ghone TV presenter is also in the same business of sleeping with old men at East Legon for money so she is offended Strongman has exposed her colleague.
SEE HERE: Strongman disrespected all Ghanaian women by dissing Fella Makafui; he should apologize – Serwaa Amihere [Video]
Some of the comments have not been kind to the sensational tv presenter at all. They took her to the cleaners for daring to condemn Strongman when Medikal started and even said worse things to Strongman.
Speaking to Strongman in an interview on Ghone, a day after Strongman and Medikal's beef, Serwaa Amihere called on Strongman to apologize since many people claim he disrespected all women for dissing Fella Makafui.
SEE ALSO: 12 Stunning photos of Strongman's girlfriend Nana Ama that prove she is more pretty and decent than Fella Makafui
But Strongman revealed he wouldn't because he was just defending his girlfriend's honor after Fella's boyfriend, Medikal insulted her.
Watch the interview
This was what angered Ghanaians to angrily attack Serwaa Aihere on social media. The disrespectful way she addressed Strongman during the interview has even angered most Ghanaians more.
SEE ALSO: Ghanaian Blogger exposes 3 of the alleged East Legon old men who use Fella Makafui for supper [Photos]
READ SOME OF THE COMMENTS BELOW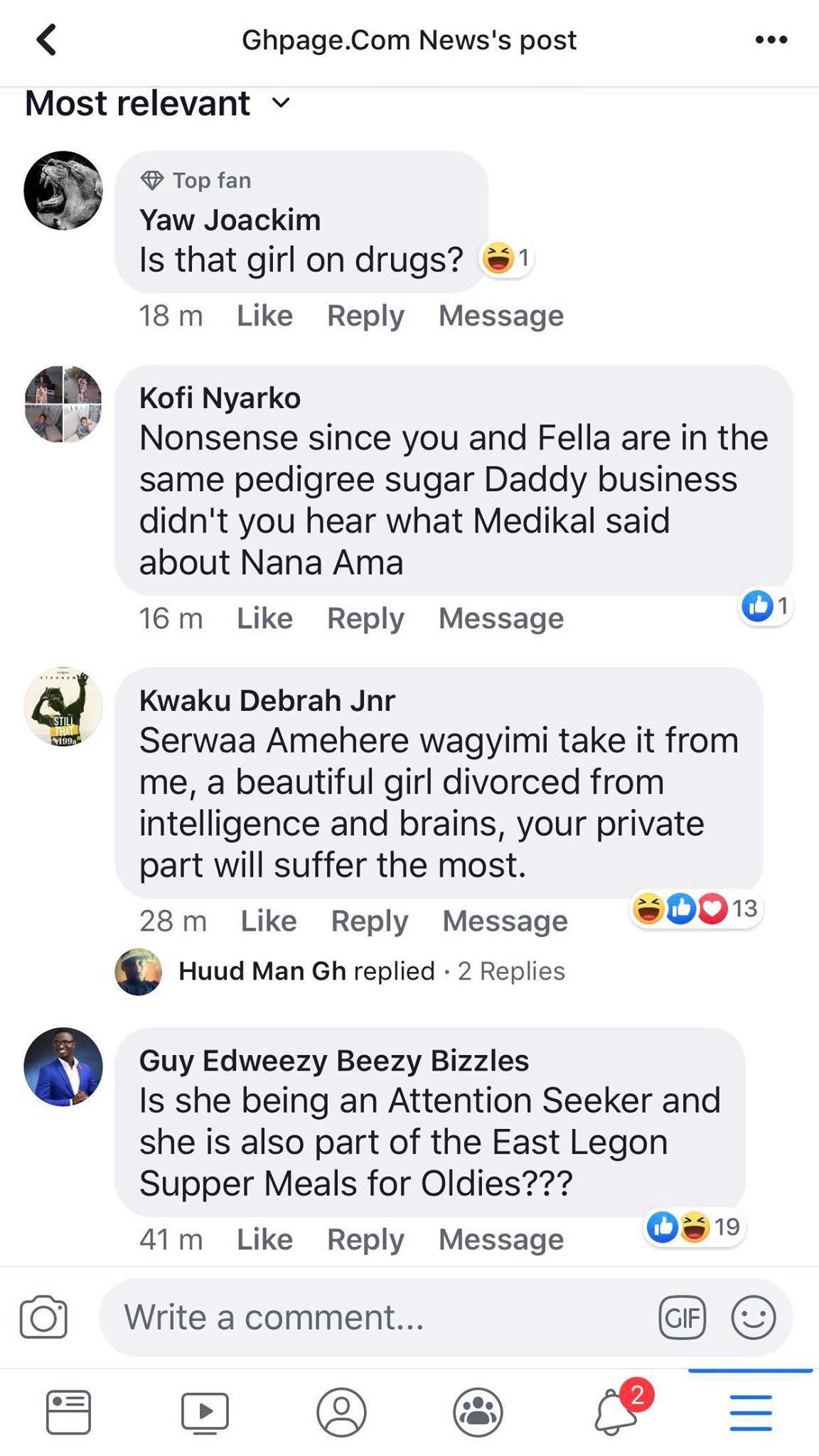 SEE ALSO: Medikal's friend fingered Strongman's girlfriend, Nana Ama & paid her ¢2k
SEE ALSO: Richest Ghanaian musician, Medikal and Fella Makafui do Live Instagram Video to mock Strongman and his fans [Video]
Serwaa Amihere is yet to react to the numerous attacks from Ghanaians. Ghpage.com will be sure to update you when she does.