The AMG rapper, Medikal has finally subtly revealed why he dumped Sister Derby, his longtime girlfriend for Fella Makafui and it all boils down to food and cooking.
Medikal just shared a video of Fella Makafui in a very tiny straight dress cooking in his kitchen. Fella Makafui was dancing to Medikal's song at the background whiles she shakes her ass to the camera.
Sharing the video, Medikal captioned: "Kitchen vibes with Bestie, Soup everywhere".
SEE ALSO: Medikal expresses his love for Fella Makafui
Without knowing the issue of cooking between Sister Derby and Medikal, many wouldn't understand why the video is a subtle way by Medikal finally opening up on why he dump Derby.
You see, Sister Derby has confessed she does not know how to cook despite her status as the woman in the relationship. She reportedly admitted she is very bad at and she hardly goes to the kitchen.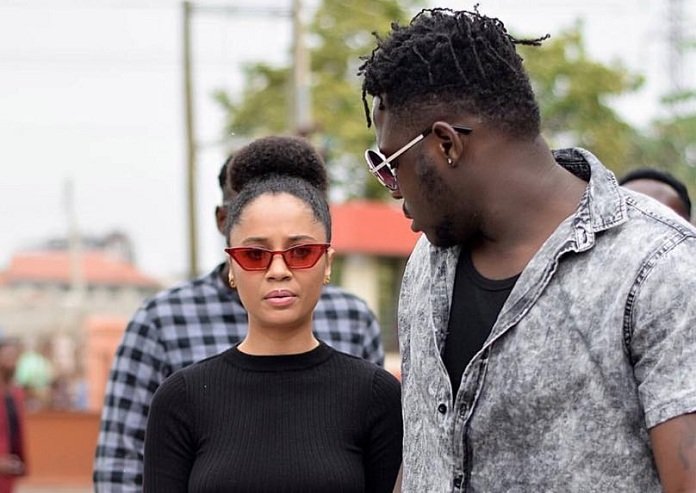 SEE ALSO: Sister Debby sends a message to Medikal and Fella Makafui
But when Medikal was questioned on it during his happy days with Sister Derby, the rapper stated that he knows Derby can't cook but since he can cook, it bothers him not.
Speaking to Sammy Forson on Joy FM, Medikal stated firmly that he will cook for the family when the need be. But it has been revealed it bothered him after all
SEE ALSO: My affair with Medikal is not that deep – Fella Makafui breaks silence on cheating with Medikal
Based on that statement, it became very clear that home cooked soups were hardly found around the house; They mostly order food from outside since Medikal can't cook every day.
So sharing a video of Fella Makafui cooking in his kitchen with the caption: "soup is everywhere", it's obvious there is a coded shade in the caption and only those who know will understand and now that includes you…lol
SEE ALSO: I might never get married – Medikal
WATCH THE VIDEO BELOW
SEE ALSO: Fella Makafui puts her camel toe on display in a new photo
By the way, Sister Derby has confessed it's over between her and Medikal. Fella has been able to snatch Medikal from her fingers.
Responding to a comment on why she has been going nu*de for a while now, Derby stated it is not because she wants a new guy as being speculated but she even did that when she was dating Medikal. She actually used the phrase "Was dating medikal".
SEE HERE: "I'm no longer in a relationship" – Sister Deborah confirms break up with Medikal