The reigning Miss Ghana Queen, Margaret Mwintuur Dery has revealed that the Miss Ghana pageant is a big sham as she poured out her frustration on social media.
Margarete who seems to be fed up with the treatment meted out to her in several posts on her Twitter page has poured out her heart lending credence to what the others said about the contest in time past.
Also Read: Miss Ghana S.e.x Scandals, Inna Mariam Patty Finally Responds To The Allegations of P.i.m.pi.n.g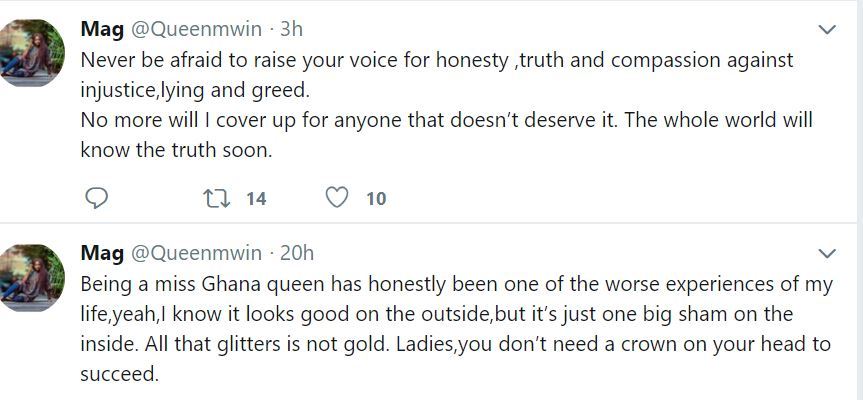 Earlier some past contestants of the pageant revealed some shocking ordeal they go through including being cheated and forced to do certain things they never wished to. An allegation which was denied by the organizers of the show.
If the current tweet is anything to go by, then it means that confirm claims by some former queens who were made to do things against their wish and were treated as rags.
Also Read: Miss Ghana 2017, Margaret Mwintuur Dery distances herself from activities of Miss Ghana as the Queen and Sung Maryanne Billey, personal assistant to Inna Patty resigns
The current queen further advised ladies to be careful with the pageant they decide to partake since some would just use and dump.