The founder and leader of Anointed Palace Chapel, Rev Antwi popularly known as Reverend Obofour has stated that he is the "God at Rev Sam Korankye Ankrah's church" which is a nuanced response to the latter's jab on fake prophets in Ghana.
The Apostle General of the Royal House Chapel had recently warned his congregation against false prophets in Ghana who, according to him, mostly bleach their skins — starting from their faces.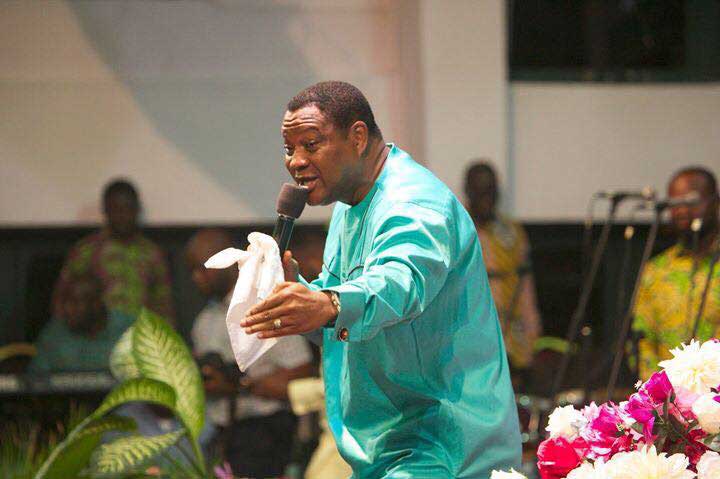 He made reference to Obofour's constant showing off of his wealth — which Apostle Sam Korankye Ankrah described as a pure sign from the devil — who is noted for glorifying worldly things.
He hit again at the regular playing of circular music and dancing in Obofour's church which the Apostle stated that as a surefire sign to identify a false prophet.
In what seems to be an obvious response, Rev. Obofour stated that if any pastor speaks about him in his church, he automatically becomes the God of that church.
'When you preach about me in your church, I become the God of that church' He stated.
Right after that statement, Obofour continued to make some teasing but funny gestures.
Obofour then made reference to what he said was a conversation he had with God. According to him, God told him four years ago that, he will make him the leader and head pastor in the whole of Africa which will result in people speaking against him.
"You will come and overtake all pastors that have taken the lead" Rev Obofour claimed God told him.
He disclosed that God forewarned him against the consequences that were going to come with being the leader of all pastors in Africa.
He said God informed him not to respond to the various attacks that will arise.
"The more they talk about you, it becomes a water of blessings which will propel you to greatness. But whoever rise against you will be shortlived and be disgraced" He stated God told him.
Obofour added that, henceforth, he will not mind any pastor/anyone who speaks against him because he has realized that he has become an easy target as most people now see him as a great person.
But he threw a word of caution that, if the insults on his person become too much, he will then resort to a lawsuit to redeem himself and use the proceeds from the suit for charity.
Seemingly, Obofour's is the third pastor who has replied Rev Sam Korankye Ankrah as it followed that of Rev Owusu Bempah's allegations and Obinim's insults and attacks.
READ ALSO: Sam Korankye is an occult; sleeps with church members-Owusu Bempah
The founder of the Glorious Word Power Ministry, Rev. Isaac Owusu Bempah, was the first to rebut which he alleged that Apostle General Sam Korankye Ankrah of the Royal House Chapel, bleaches his skin — with the use of injections and taking in of pills.
He also called him an occult pastor who sleeps with his church members.
For the leader and founder of Godsway Church international, Daniel Obinim came hard at Rev Sam Korankye Ankrah who he described as a very stupid person.
Below is the transcript of some of Apostle General Sam Korankye Ankrah's earlier submission on what he said about recent doomsday Ghanaian pastors:
"I've never been to their churches before but I've been hearing them on the radio, and, so, I can tell a few characteristics that you must know and watch out [for]. Number one, some of these prophets, I've noticed one major characteristic – they all have bleached faces. "

"Their prophecies and miracles are mere "projections" rather than divine revelations given to them by God."

"I'll be showing you the advantage that they have over the people that are following them; remember that prophecy is to declare and to speak, and, so, he [doomsday prophet] is in a position to declare and to speak; and whatever he speaks and he declares, always … cows and controls the people so that the people will always follow until something happens".