Today is the birthday of sensational Ghanaian actress, Salma Mumin and she has released some wild and tasty photos to celebrate her special day. Salma Mumin just released a birthday shoot starked na*ked covered only by sliced watermelon.
The watermelon has been designed as the brazier and panties barely covering her assets as she displays them to mark her born day.
SEE ALSO: Kofi Asamoah and actress Salma Mumin spotted chilling in Greece
It's unclear the inspiration behind the photoshoot but already it has garnered wild reactions from her follows on Instagram and fast spreading to the other social media platforms.
Sharing the photos on her Instagram page, Salma Mumin wrote:
ON THIS DAY A QUEEN WAS BORN IN A BATHTUB FULL OF WATERMELONS ? ?. HAPPY BIRTHDAY TO ME. LORD I'M THANKFUL ?? ???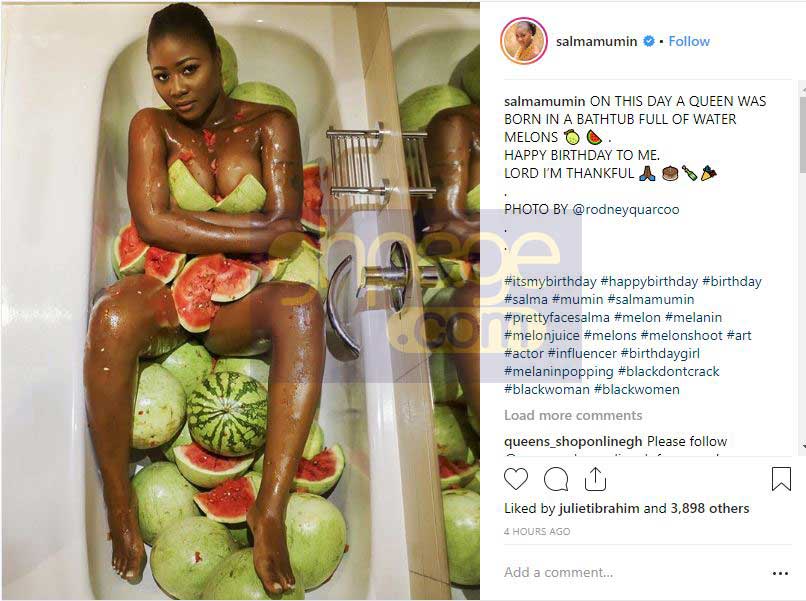 SEE ALSO: Salma Mumin opens up on dating Kofi Asamoah
For months now, it's been alleged Salma Mumin is in a secret relationship with talented Ghanian movie producer and director, Kofi Asamoah.
But they have both come out to deny the affair but reliable information reaching Ghpage.com tells us they are lying and even Kofas is planning on marrying Salma Mumin very soon. Stay with Ghpage.com
SEE ALSO: Kofi Asamoah and Salma Mumin to wed soon