Being a celebrity status comes with a huge responsibility aside the studio session and the stage performances. One area an artist or celebrity has to put much time and effort in is your fanbase, appearances and outlooks.
This is not the case of Ghana's best rapper Michael Owusu Addo also known as Sarkodie as a popular blogger has dragged him into the shades for disrespecting a female fan.
READ ALSO: Photos: 6 Ghanaian Musicians Who Need To Change Their Style Of Dressing
It is always required for a celebrity no matter how your mood to engage and interact with fans since they form part of your success and helps grow your fanbase. The case of this blogger[Chris Vincent] didn't go down well with fans and social media users at large who have trolled the blogger for his write up about Sarkodie.
In his wite up, he wrote: "…Walking beside us was a beautifully dressed woman, who I later saw jump into a Unibank Services car and therefore must be a Unibank staff."
READ ALSO: This Picture Of EC Boss Charlotte Osei's Daughter Is Driving The Internet Crazy
"While angry-faced Sarkodie was adjacent us, walking towards us to the lift which we had come out of, this woman shouted loudly, amplified by the emptiness of the huge floor—"King Sark, how are you?"
"But Sarkodie completely ignored this lady, and it was embarrassing. I am not sure how she was able to still walk alongside us to her car in those heels."
"Kwame turned his neck and asked me, "Did you see what just happened? And then Sarkodie will come and sit on TV to say he's not arrogant as claimed."
READ MORE: Popular Man Of God Names The Top 3 Occultic Prophets In Ghana Who Are Leading People To Hell
"I responded: "He's an illiterate arrogant douchebag—who walks around with a camera, a frowned face and completely ignores a shout-out from a fan in such a contemptuous manner."
"King Sark, the woman shouted! I say, King Sark my foot!"
The angry fans flooded his comment section of Chris throwing various jabs at him. Read some of the comments below…
READ MORE: Archbishop Nicholas Duncan-Williams Reveals How He Lost His Fingers In a Very Dreadful Ordeal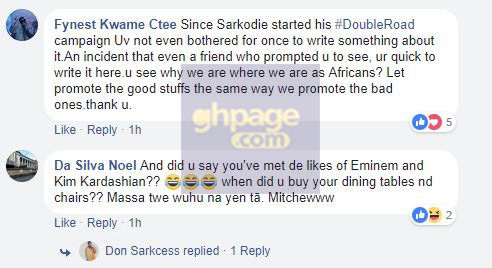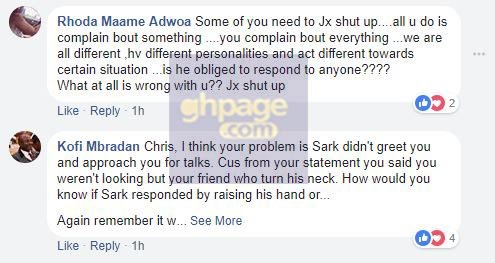 READ ALSO: Hot Audio: Prophet Nigel Punches Owusu Bempah In A New Interview & We Now Know The Beef Is On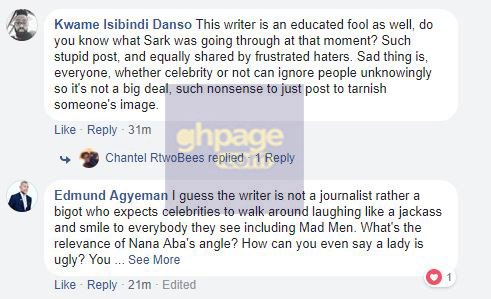 READ THIS: After Awarding Patapaa Huawei Is Set To Award King Promise