Looks like all is not well in the family of Ghana's first President Dr. Kwame Nkrumah as his son Sekou Nkrumah has accused his senior sister, Samia Nkrumah of been a murderer.
According to gathered so far, Sekou was unhappy with his sister and elder brother Gamel Nkrumah for bringing his(Sekou) son to Ghana without his consent a decision he is not in support with.
But one Pierre Bandana who purports to be an aide to Samia responded to the allegation and revealed that contrary to what Sekou was saying, his son had been in Ghana for some time now and has been sleeping on the streets but his auntie(Samia) came to his aide.
Also Read: Osagyefo Dr. Kwame Nkrumah shouldn't have fought for Ghana's independence – Shatta Wale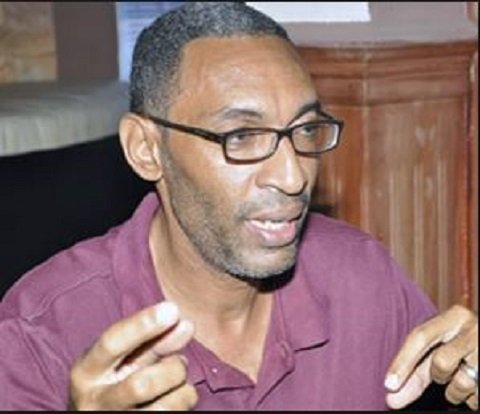 This revelation from Samia aide angered Sekou who responded by alleging that his sister called his son.
Read his statement below:
"The cat is now out of the bag! Pierre Bandana a filthy animal full of lies and deception just admitted to managing my sister's Facebook page! This speaks volumes of the kind of person she is! 
Indeed I am now convinced that she killed my son Alin! "
See screenshot below: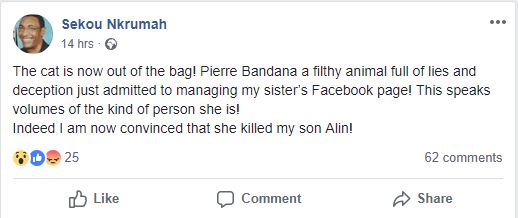 Also Read: Photos: Meet Princess Nkrumah, the gorgeous granddaughter of Dr. Kwame Nkrumah
I personally knew Alin ( Sekou's son ).
The son he never wanted.
The son he abandoned in Victoria station London.
The son he never wanted to meet when he followed his father to Ghana.
The son who called Sekou several times on his dying bed but his bastard father never came to see him.
Sekou told his own son "you were supposed to be aborted. You stay in Ghana will ruin my political vision"
You left your poor son and his mother back in Ukraine and never went back or even checked up on them ever again.
Alin made it to London and was sleeping on the streets. 
He was lucky to find Samia on Facebook and wrote to her.
Also Read: These Are The 'Hidden' Daughters Of Some Of Ghana's Political 'Giants'(Photos)
Samia brought your son to Ghana, gave him a place to stay, took care of him as her nephew he was.
You painted your own sister as the devil for bringing your unwanted son to Ghana and claimed it was all part of a plan to kill your political career.
You don't even know where your son is buried or how his funeral went.
Your family took care of all that whiles you were all over the place calling them evil.
Have you thought maybe that's why your older brother never wanted to meet you when he came to Ghana?
I know your mental illness must be triggering you to do all this stupid things in public for sentiment.
These stunts must stop.
I manage Samia's Facebook sometimes and I know very well that you knew she was coming to the US.
She was a guess speaker because of her hard work and commitment.
She met with Rev. Dr. Bernice King in Rome and they spoke about it and that is why she was invited.
I have all my messages with your son and I wouldn't mind sharing it on here for the world to the kind of father and brother you are to your family.
Seek therapy and get off social media to heal yourself.
You are an old man but you act like a kid. 
It's very sad to see Dr Kwame Nkrumah's son throw his life away like this.
SEE MORE: Unseen Photos of Top 15 Most Beautiful Ghanaian Female Politicians