Rapper Kwaw Kese who stated that he was the one who made Shatta Wale's new album titled "REIGN" popular after he criticized the whole album has once again come out to rubbish news of his album clocking Number 6 on Billboard World Album Charts.
According to Kwaw Kese in a tweet, the new achievement by Shatta Wale is a fake tagging it as; "Ghanaians have their own version of billboards chart now".
Read also: What happened when Sarkodie performed songs he collaborated with Shatta Wale at Glo mega music show 2018
What Kwaw doesn't know however is the fact that we have a category for "Billboard World Album Charts" and "Billboard 200? (the one he has seen).
Below is a screenshot of his Tweet: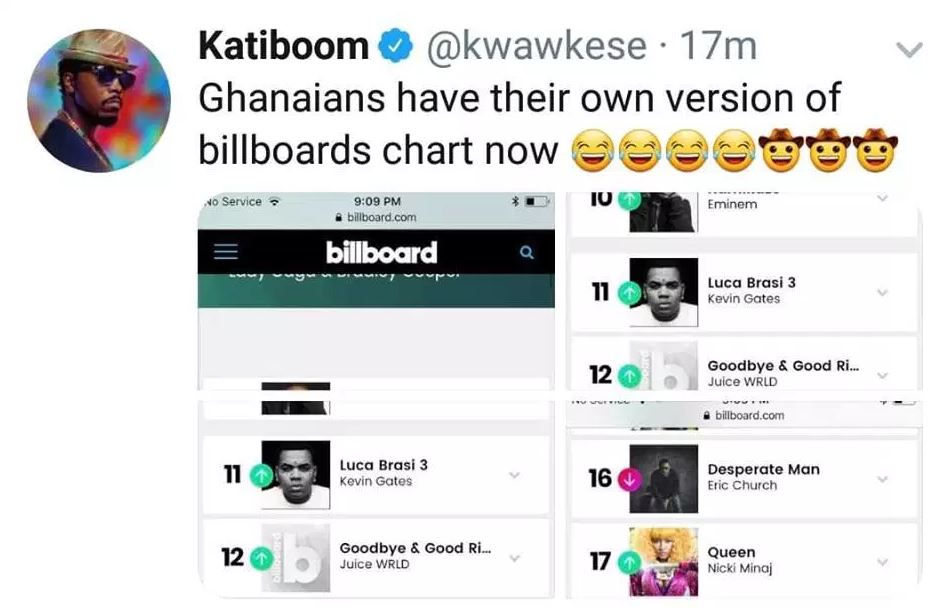 Read also: Sarkodie's first public interview after advice diss track to Shatta Wale
There have been several arguments/accusations between Shatta Wale and Kwaw Kese. Kwaw Kese recently released a diss song titled "Porkum" for Shatta Wale.
Recently, Sarkodie unleashed his anger on Shatta Wale and released a diss song titled "My Advice" targeted at Shatta Wale.
Read more: 95% of songs on Shatta Wale's "REIGN" album doesn't make sense – Dr Blay