Shatta Wale's brother Flossy Blade has made a stunning revelation as to who actually said Stonebwoy killed his mother as together with his brother had argued he (Shatta Wale) has never said that.
In an interview with Joy FM, Flossy stated that the 'Stonebwoy killed his mother' statement was rather said by a fan who commented on Stonebwoy's post on Instagram.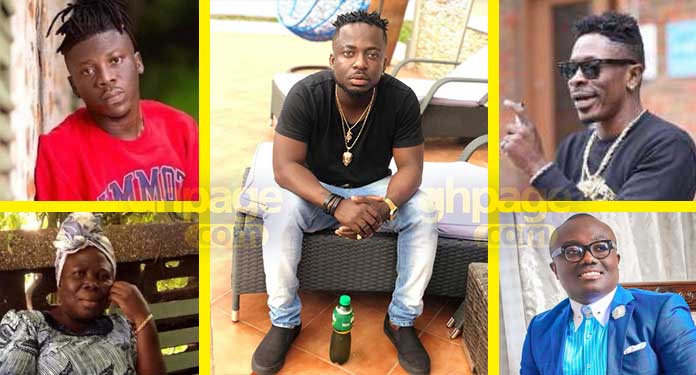 "Shatta never said that and I don't remember my brother going hard on him to say he killed the mum. All I know is a fan made a comment under his post on Instagram. And he(Stonebwoy) came saying that fan should be able to gather courage and tell him that in his face when he sees him somewhere or anywhere." Flossy narrated to Naa Ashorkor.
READ ALSO: Akua Ghana's most beautiful reacts to being the 4th wife of Dr. Kwaku Oteng
"And its even all over the place, the evidence is out on social media, that this is the guy who said this and it's a fan. People are saying things to Shatta coming from other people's camp and you can take the vibe of a fan that it is Stonebwoy saying that. When a fan from Stonebwoy's camp come out to say it, my brother cannot say it is Stonebwoy who said that." He added.
Flossy continued to say that, Shatta Wale did not like that particular comment or even comment under it to show support or solidarity.
On whether Shatta Wale apologized to Stonebwoy in London he explained that the issue in London was not about an apology but rather — his brother approached Bola Ray to tell him about Stonebwoy's cold attitude towards him because of certain things he(Shatta Wale) says Stonebwoy doesn't understand.
It was after that Bola arranged for a meeting between the two camps and Shatta even spoke with Stonebwoy's dad and it was a very peaceful meeting contrary to what Stonebwoy had been saying.
On Shatta Wale sending a text to Stonebwoy to apologize he also disclosed it is not true.
Watch the video below;
This comes after Stonebwoy issued a strict warning to Shatta Wale to desist from spreading false rumors about him that he killed his mother.
Stonebwoy who was visibly unhappy vowed to 'dramatically' deal with Shatta the next time he spreads such a false rumor concerning his mother's death.
In an interview with HitzFM which later turned into a heated conversation, he dared even Shatta's fans to gather the courage and say such a thing to his face and face his wrath.
"You go around saying I killed my mother and you go behind me and say yo killer. Bomboclat. I'm waiting for one person and himself to come and tell me that I killed my mother and it will be beautiful in this Ghana. …… tell him to f*ck off or else," Stonebwoy stated