Shatta Wale has made a post on social media suggesting that not only is Stonebwoy pretending to be at peace with him, but he is also fake and never meant everything he said during the peace conference.
Shatta Wale went on to advise his fans and follows to be careful whenever former enemies profess love for them.
To Shatta Wale, such people only wish to be like him but it's never possible for that to happen.
SEE ALSO: Sarkodie, Bisa Kdei, Obrafour, others magnetic performance at the naming ceremony of Kwadwo Safo's son (Videos)
Although Shatta Wale never mentioned Stonebwoy's name in his social media rants, many people have concluded it's a jab for Stonebwoy for one specific reason.
Shatta Wale wrote on his Facebook page:
"Careful when they say they love u .. It's all fake !!! They just wish they were you !!!! But that's not possible !!! Learn how to say THANK YOU AND SORRY deep down from your HEART and stop pretending !!"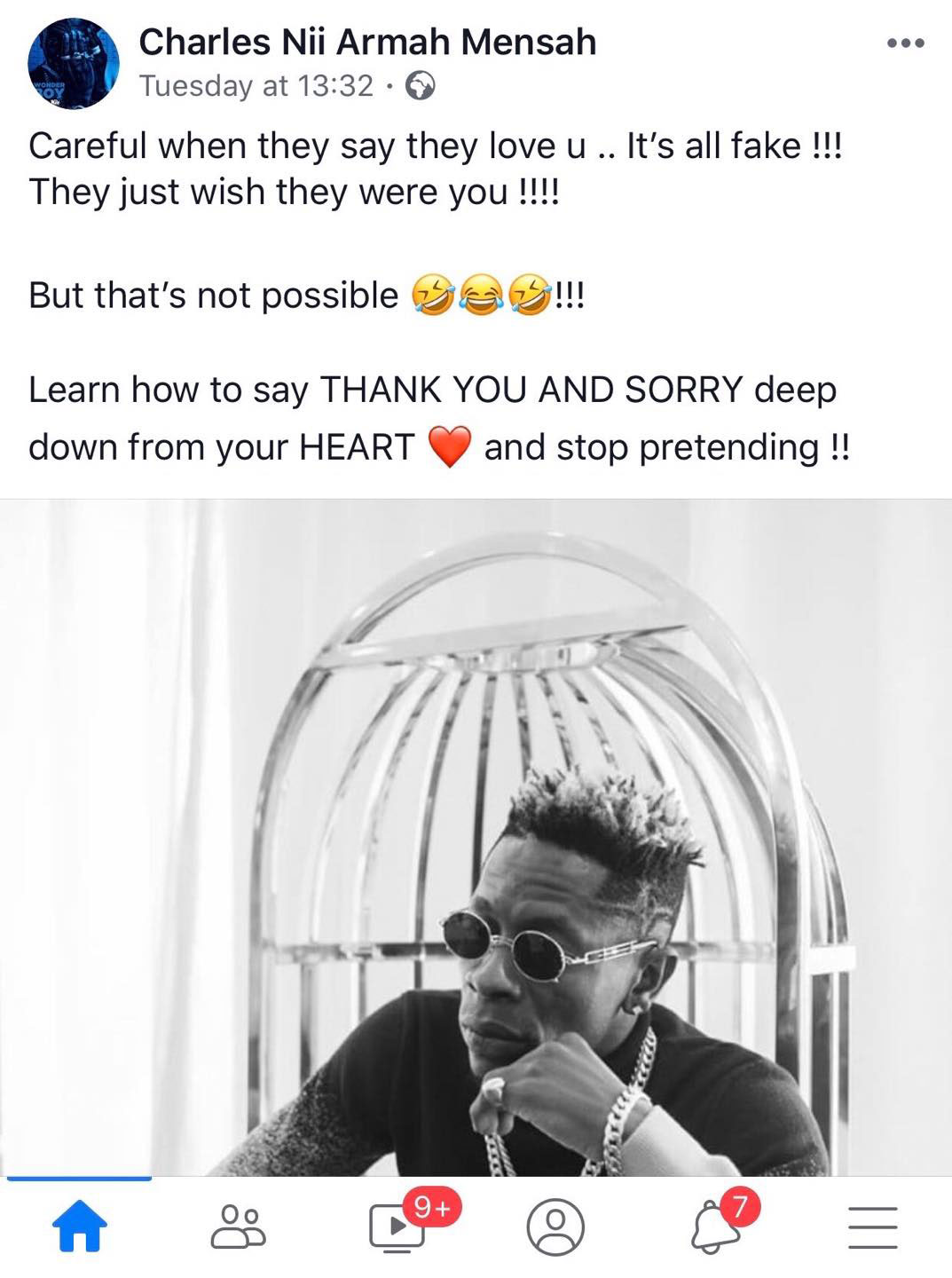 Now, let me explain why many people believe Shatta Wale's jab is for Stonebwoy and no other person.
SEE ALSO: Video of big b00ty Ghanaian Slay Queen, Ama Coke being chopped in swimming pool [email protected] online (Watch)
Stonebwoy has shared a video of all the big artists who performed at this year's Ashaiman To The World Concert to say a very big thank you to them on social media.
Stonebwoy went a step further by tagging most of the big artists like Sarkodie, King Promise, Kwaw Kese, Eno Barony, Strongman in the post to thank them.
He even tagged the underdogs like Quamina MP, Banju and many others in the post to show appreciation to them for making the show a success.
But for some strange reasons, neither was Shatta Wale who is most likely the biggest artist on that night captured in the video Stonebwoy shared.
SEE ALSO: Video of Gospel musician, Ohemaa Jacky being chopped and fingered at a hotel by a fetish priest leaks online [Full Video]
Again, Shatta Wale was not mentioned in the names Stonebwoy tagged to thank them. He completely cut Shatta Wale off like he was never
Stonebwoy posted:
Stonebwoy wrote: "ASHAIMANTOTHEWORLD'19 God Bless All The Artistes Who Took Out Their Precious Time To Come Show Us Love!!! @sarkodie @Quamina_Mp @BANJUI_Up @ItzKingPromise @Larruso_ @kwawkese @enobarony #AkSongstres s @StrongmanBurner #sunshineSoldier Many Many superstars!!! God bless You! "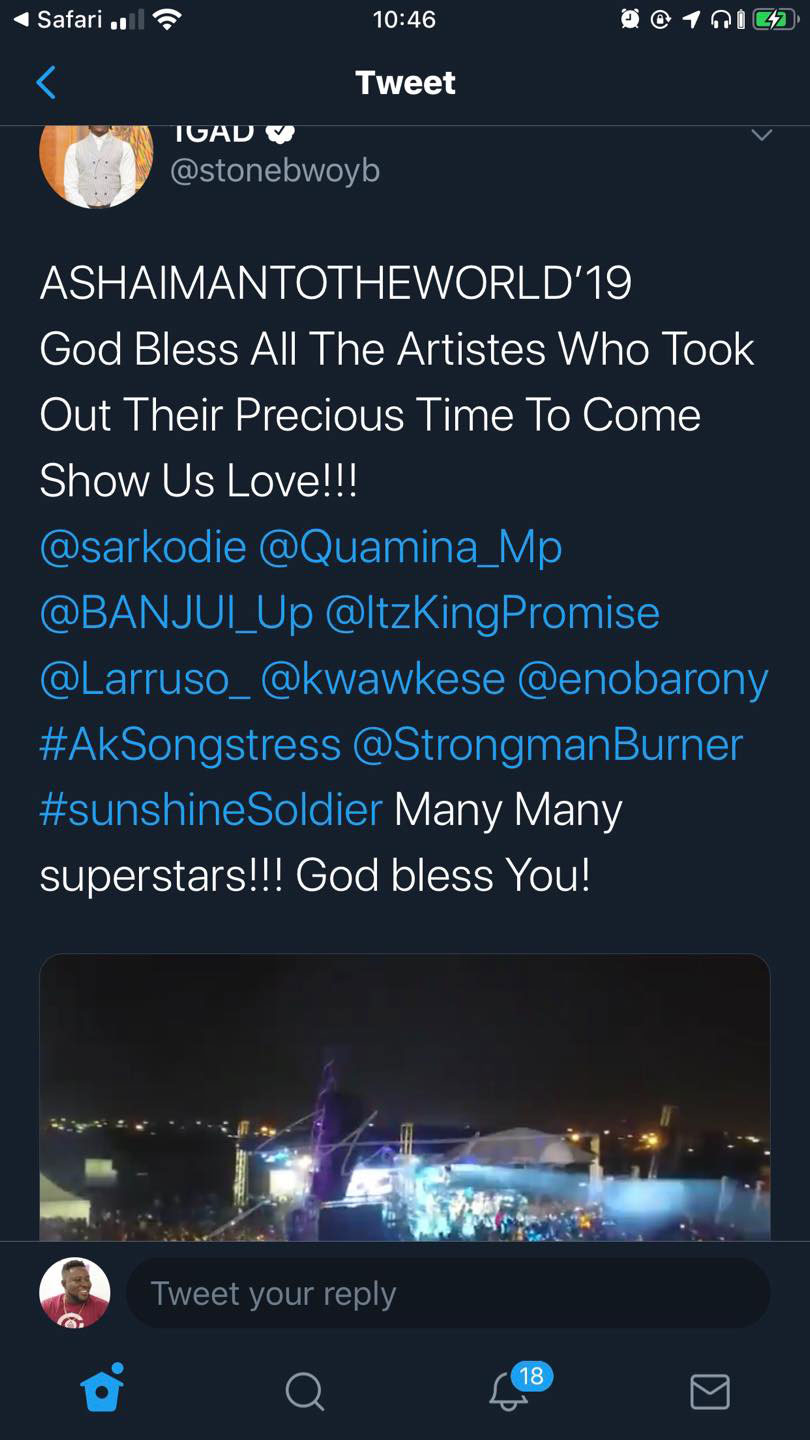 Already, the comments have been filled with almost everyone jabbing Stonebwoy for being a fake peacemaker and ungrateful.
Well, you can't fault people for making assumptions that Stonebwoy might be holding on to some past grieves. After all, he recently said in an interview that his peace with Shatta is not really over.
SEE ALSO: 11-year-old kids marry in a beautiful white wedding ceremony-Photos go viral
Time will tell and Ghpage.com will keep you updated. Stay with us