Dancehall artiste, Shatta Wale has waded into the ongoing social media brouhaha concerning Instagram model Moesha and his former manager over claims that he's been having an affair with Moesha and that the actress has contracted HIV from him.
The man in the center of all these controversies is identified as AIK Livingstone Abani who has been accused of infecting celebrities and Slay Queens with HIV.
The accusation started from a Snapchat user with the name fatp*ssy055. According to this user who dropped wild screenshots and photos of ladies who have fallen prey to this man who is intentionally infecting our famous ladies, AIK Livingstone Abani does all this and pay his victims huge sums of money.
Read also: Ernest Opoku used to wash my cars and bathroom – Brother Sammy brags
According to Shatta Wale in a message shared on his Instagram page to console Moesha of her alleged contraction of the disease, posted a photo of Moesha and also encouraged her not to give attention to the allegations.
See his post below…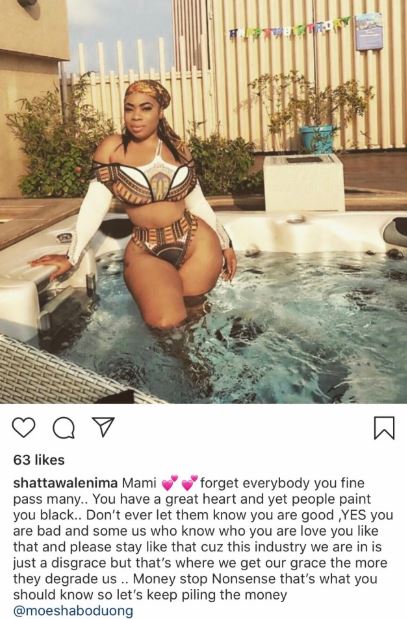 Meanwhile, Moesha Boduong has broken her silence on the allegation that she has contracted HIV-AIDS from the former manager of Shatta Wale, the CEO of Madhaus Entertainment, Mr AIK Livingstone Abani.
Read also: Moesha Boduong reacts to contracting HIV from fmr Shatta Wale's boss
According to Moesha Boduong, people who hate her have realized they can't get anything thing to say about her so they are generating the lies to taint her image.