A new die-hard fan of Charles Nii Armah Mensah aka Shatta Wale has tattooed his popular signature "Paah Paah Paah" on his arm and Shatta Movement fans on social media are going gaga over it.
Sharing the photo on his social media handle, the SM boss himself hyped praises on his loyal soldier for displaying maximum loyalty to him.
READ ALSO: Shatta Wale reveals the only way Menzgold customers can get their money
The real identity of this SM fan is unknown but from all indications, it's obvious he is one of those fanatic fans who will do anything for Shatta Wale.
Despite the fact that Shatta Wale and his fans are jubilating and praising this man for showing supposed loyalty, many social media users do not see it that way. They have used words such as aimless and irresponsible on the young for loving Shatta Wale too much.
Well, check out the photo below and draw your own conclusions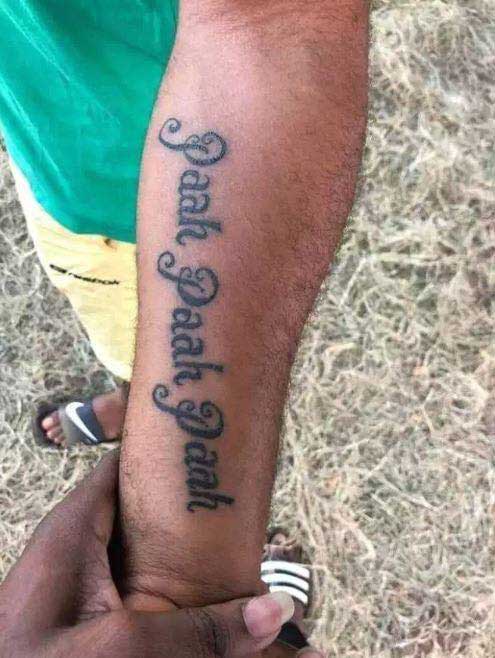 READ ALSO: Shatta Wale is a bad influence on the youth -Aka Blay
For some time now, many fanatic fans of musicians especially, Shatta Wale fans have developed the habit of tattooing Shatta Wale's name and signatures on their bodies.
Recently, one of such people went viral after he tattooed "SM4LYF" on his face. It appears that is their own way of immortalizing the Tamale Dancehall King.