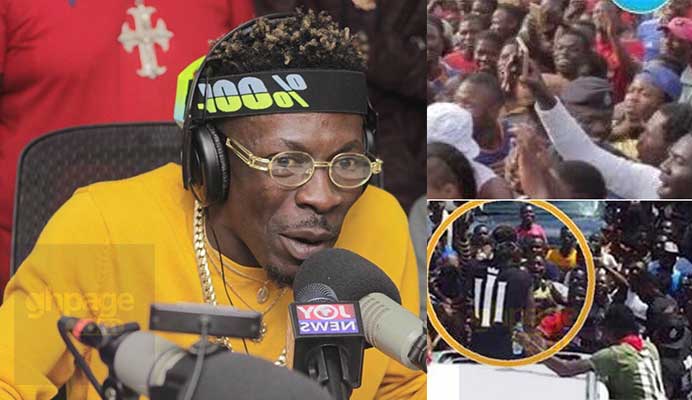 Ghanaian dancehall artiste, Shatta Wale's comeback into the music industry has accrued mass following and we can exclusively say he has the largest and loyal fanbase in Ghana and undoubtedly the most popular artiste in the country.
He's always mobbed whenever he makes a public appearance and on many occasions, due to their undying love and support they follow him everywhere he goes.
Read also: Billboard explains how Shatta Wale's 'Reign' album clocked No.6 on the Billboard World Album Charts
The 'ayoo' hitmaker on Friday 26th October 2018 after an interview on Accra-based radio station, Joy FM was mobbed by fans around.
It took the timely intervention of his bodyguard and some policemen to shield him till he sat in his car.
Read also: I'm Shatta Wale's biggest fan – Nigerian musician Olamide
You could clearly see them adoring their 'hero' and you could see how surprised some of them were to see their star there —who they obviously weren't expecting him there at that moment.
Watch the video below…
Read this: Shatta Wale reveals the meaning of WALE, also claims Sarkodie drives rented cars
Shatta Wale and his gang once stormed the University of professional studies (UPSA) hostel to pick some 'Shatta' ladies home.
In the video GHPAGE.com spotted, the moment some of the students saw him around started shouting his name which suddenly attracted the attention of others.
Read more: Shatta Wale talks too much – Samini revives 'beef' with Shatta Wale
In one of his visits to Kasoa where Nana Appiah Mensah resides, he was surrounded by a crowd of SM fans who had gathered at the premises of the station to welcome their boss.
Shatta Wale couldn't help but receive the deserved accolades. He gave a speech and put up a great performance afterwards.
Read this too: I will charge $1million to feature Shatta Wale on a joint concert – Samini