Ghanaian slay queen who mistakenly exposed her bushy 'honey pot' while 'tantalizing' her male friends in a Facebook live video has threatened to commit suicide.
Identified as Queenie Adwoa on Friday, January 26, 2019, in a live Facebook feed quickly run off the camera after she found out that her bushy 'honey pot' has been on a free show to the world unawares.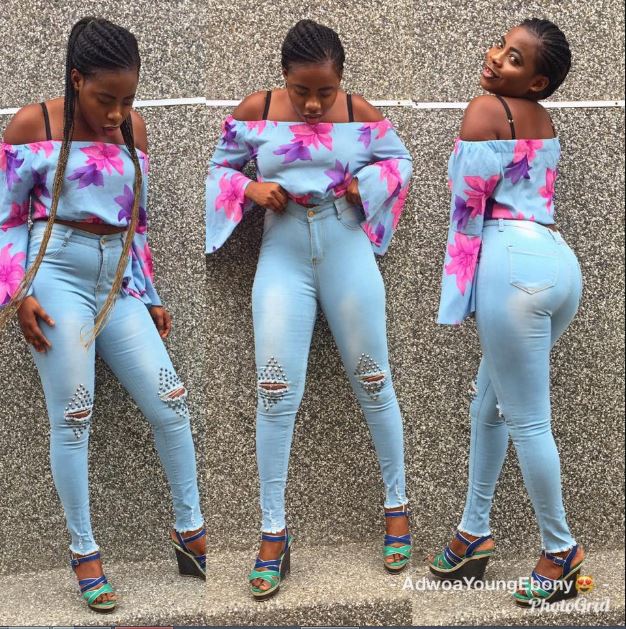 Though she quickly removed it from her timeline, the video has since been going viral on all social media platforms compelling her to issue death threats on herself.
Now, in a post sighted on her Facebook wall, Queenie Adwoa has threatened to eliminate her life since it's the only option for her to avoid the huge disgrace.
She wrote: "Charlie am off to kill maself ?????cox de way de things is going di33 na only rip fi end am …..if yuh no hear from mi morro den till we meet one day ??those of yuh sharing it if I die and yuh type rip on ma pics ma ghost will slap yuh ????didnt yuh see I was high and I didn't even know ??????.
"Gudbye hope yuh won't share something yuh don't understand if de near future dat will cost someone death ,make nobody call ma fone cox maybe ma landlord will bi de one to pick it was nyc knowing yuh all ….Rip to ma innocent soul hope God understands ???May I rest well".
Read her words below…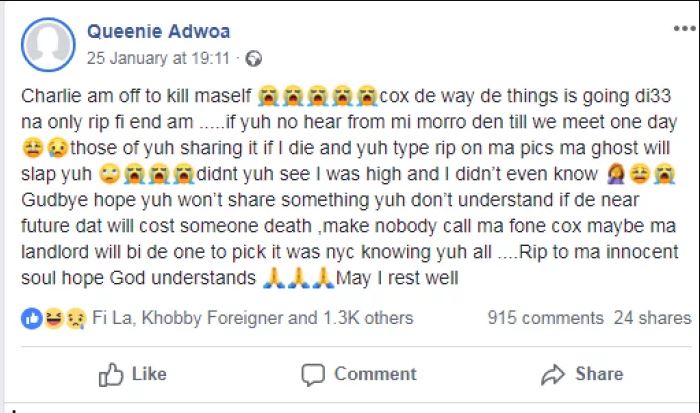 Watch the video
https://www.instagram.com/p/BtLX9xMhGXC/?utm_source=ig_share_sheet&igshid=8q5up1m6eo5q
Obviously, Queenie is not happy with how people are sharing the video hence her decision to end her life.
What will be your advice for the young lady? share your comments below in the comment box.