A Nigerian soldier has who is nurturing heartbreak has narrated on how his girlfriend now ex of two years secretly got married to another man while he was away in the fight against Boko Haram.
The military officer known as Emmy Benison disclosed this on Instagram stating that he only found out about her wedding via Social media as people posted wedding pictures of his girlfriend.
Also Read: More photos of the soldier who died a month before his wedding and his girlfriend
His full post read: "we started dating 4yrs ago and I went away for 2years without coming home. She never told me she couldn't wait anymore. I was hoping on coming home someday and make her smile again, but i woke up dis morning with pictures of her wedding. Dame, I cried o but i gotta be a man for myself, heartbreak ain't allowed here".
See screenshot below: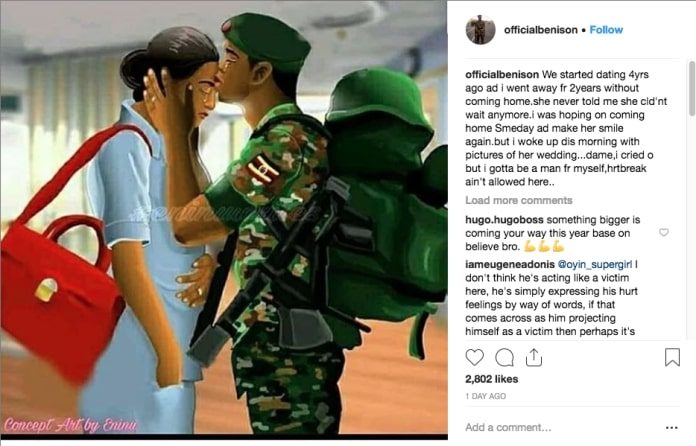 SEE MORE: Social media users react to handsome Ghanaian soldier who died one month to his wedding through 'hit and run'