Social Media sensation now turned musician Archipalago has replied the AMG boss, Criss Waddle for mocking his Youtube stats on his first single.
Archipalago who sounded very angry warned Criss Waddle to stay out of his business or face his wrath.
In a video shared on his Instagram page, Archipalago explained that he is an entertainer and he is very conscious of whatever he does.
Archipalago also claimed that it was his term "Beigya" that Criss Waddle used to ger his biggest hit and advised him to be cautious.
"Somebody better tell Criss Waddle to learn some sense otherwise…. huh aight this is your reply, Menma ade3 koraa nkye so!!!! Kwasia Banku Abeteku ????????#megyechallenge #Legendary #megye #PalagoMufasa #FaNe10", Archipalago wrote on Instagram.
See post below;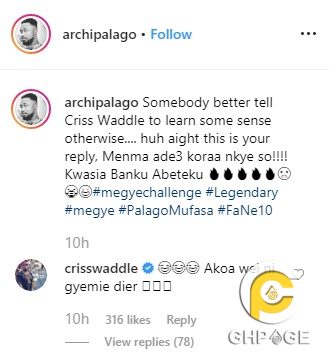 Watch the video below;
This comes after Archipalago is originally known as Dennis Anane released his first single dubbed "Megye" which has received massive backlash.
Majority of Ghanaians are of the view that Archipalago's song is noisy and nothing to write home about.
Currently, the video which has a total of 16,000 views, has 2.7k dislikes and only 298 likes.