Ghanaians were still deliberating on how the young girl in the leaked seks video was able to handle 3 guys at the same time in the leaked atopa video only for the girl herself, Aisha to come out and react to those sympathising with her.
According to a screenshot of a chat shared by an insider, the embattled Aisha seems to enjoy the fame she's gradually getting stating that as long as she looked sexy in her leaked video, she doesn't care. Yeah, you heard me right.
See the screenshot below…
read also: Photos of the guy who is said to have released the Aisha videos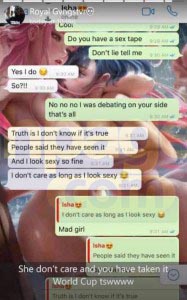 The Inside Story…
A friend who claims to know what really went down has narrated exactly how the video was recorded and why it was released online and it all boils down to money.
According to the guy, Aisha was enjoying some good time with her boyfriend when the boyfriend's close friend walked into them. The boyfriend convinced her to allow the friend to also have s*x with her which she obliged.
read also: Miss Ghana Sex Scandal: 2015 winner also shares her scary ordeal
According to the guy narrating the story, the third guy suddenly came inside the room and revealed he has recorded everything and he will only not leak it if she allows him to also have a piece of her; she had no choice but to allow him. And that is why we saw 3 guys chopping Aisha.
On how the video leaked, the oboy revealed that the cameraman has been using it as a leverage to have countless s*x with Aisha with the threat to release it. He has been forcing her for the past one year (Meaning the video was shot a year ago).
But three days ago, cameraman decided he does want the tonga again, he needs cash and Aisha too had none. when she told him she had no money, Cameraman released the video.
read more: Akufo-Addo's bodyguard 'punches' old man who tried to give Nana Hi5