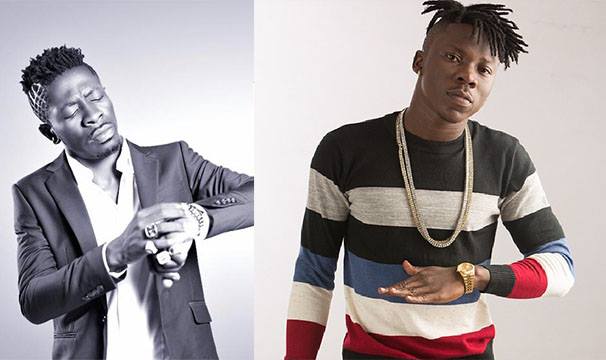 Latest signing of Zylofon Media act, Shatta Wale has opened up on his relationship with fellow dancehall artiste, Stonebwoy.
The two dancehall artistes who have been purported to be arch-rivals are now on the same record label.
READ MORE: "I Have The Power To Destroy Ebony's Career Whenever I Want" – Says Ebony's Manager
The dancehall artist who was signed to entertainment giant Zylofon media yesterday during his first performance as a Zylofon media artiste stopped singing and revealed that Stonebwoy was still his enemy.
Shatta Wale is reported to have said that joining Stonebwoy under one record label does not make them friends.
READ THIS: Meet the 16-year-old Ghanaian Dancehall musician signed by an international record label
He revealed that Stonebwoy will remain a brother in the confines of Zylofon, but if they stepped outside, Stonebwoy will still be considered his 'enemy'.
"You see as I come here right now, I no say people go think how ego do Stonebwoy, you see Stonebwoy, for here e be my brother! For town e be my enemy! E be so we dey come do the thing e no be say play play thing". He said.
READ MORE: Sarkodie congratulate Shatta Wale and Zylofon Media boss, Nana Appiah Mensah after their record signing
The two award-winning artistes however made headlines last year on social media when the two shared the same stage at Stonebwoy's "Ashiaman to the World" concert.
Stonebwoy is out of the country for his "Epistle of Mama" album project.
READ ALSO: Different You, Different Me — EL Fires At Shatta Wale For Meddling Into His Business