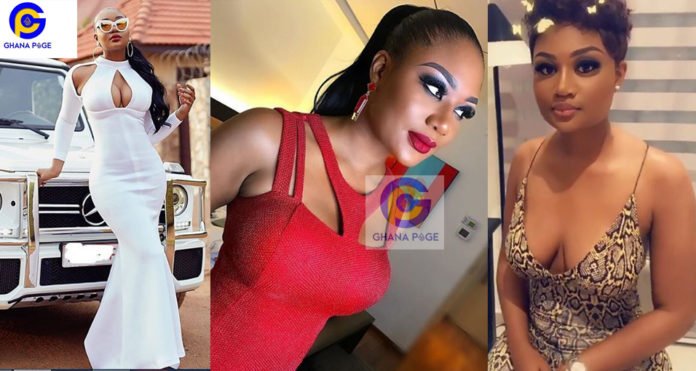 Ghanaian lawyer cum actress, Sandra Ankobiah has taken the New Year's opportunity and has descended heavily on her critics.
We all know that professions like doctor, lawyer, teacher, judge etc are deemed to be associated with old fashion lifestyle as they mainly deal in politeness.
However, lawyer Sandra Ankobiah has grown the perception of lawyers from being the old fashion type to a glowing and modeling level.
But her decision to flaunt her body and wear the most sensational dresses as a lawyer hasn't been received well by a couple of her colleagues and some Ghanaians.
With Sandra's fashion sense and lifestyle, many people are beginning to degrade lawyers from the distinctive profession class to normal humans with blood running through them and it seems some friends and colleagues can't accept that.
Yet according to the brilliant lawyer who seems to have had enough of the criticisms, nothing they say will stop her from living her elegant life.
Sandra Ankobiah in her new year post lashed out her critics that they should reserve their opinions about how she should act as a lawyer.
She further told her critics that when they get the necessary certificates to become lawyers and they're called to the Bar, then they act how they think lawyers should act.
The gorgeous actress explained that the fact that she always dresses nicely doesn't take away her skills and knowledge in doing her profession.
Sandra wrote: I'm a lawyer by profession, a businesswoman, entrepreneur, and a host of other things by occupation. I've got diverse passions and hobbies. All these add up to make me Sandra Ankobiah. I will live the life that I love, Re: my best f*****g life. I will not be caged by anybody. This is 2019, the 21st century, I'll be whatever tf I want. If I want to be a lawyer, an architect, a plumber, a fashionista, a world traveler, a poet, a dancer, etc, I'll be all of those things. Gtfoh with your opinions about how I should act as a lawyer. When you get a first degree in law, a masters in law, and you're called to the Bar, (like I have), you can act how you think lawyers should act. But as for me Sandra Ankobiah, I will continue to live my best f*****g life. The fact that you see me dress nicely etc, doesn't take away the fact that I'm damn good at what I do, and any other thing/s I set my mind to. I can do my job/s and at the same time rock an amazing outfit and go wherever I want or travel to any destination I want. I'm doing me, pls do you. Happy new year. May 2019 be good to us all. ??
Read her post below…
https://www.instagram.com/p/BsESFUdnPM6/