A press statement was released from the Sarkcess Music today to announce that Strongman Burner, the Sarkcess Music signee's contract with the record label has ended and it won't be renewed by management.
Few hours after the news broke, a tweet made by Strongman has surfaced on social media and it has got many people thinking. Many have even accused Strongman of being ungrateful towards Sarkodie, the CEO of Sarkcess Music whiles some believe he was just being real.
SEE ALSO: Strongman is the best rapper in Ghana now – Eno Barony
On 9th April 2019, just 5 days before his contract ended and was kicked out, Strongman tweeted: "Most good footballers turn to be bad coaches…Don't be deceived."
Although Strongman did not mention Sarkodie's name, it is believed by many who have seen the tweet as a subtle jab at the BET award winner.
SEE ALSO: Exclusive video from Sarkodie's daughter, Titi's birthday party
In 2017 when Sarkodie was unvailing Strongman as the Sarkcess artist, he described him as a "gem of his kind" and revealed he is his favorite MC at the time.
"If you ask Sarkodie who my favorite MC is at the moment, undoubtedly it's Strongee cos it's really hard for a rapper to listen to a fellow rapper but this guy right here I can say on regular basis always finds a way to amaze me when he drops the bars. It's an honor to have this talent right here", Sarkodie stated.
The press release detailing the end of Strongman's contract reiterated Strongman's prowess when it comes to rap music and added the label will still be there for the rapper whenever he needs Sarkcess Music. The statement ended by wishing him well in his future endeavors.
SEE ALSO: VGMA 2019: Shatta Wale mocks Sarkodie for begging fans to vote for him
READ FULL STATEMENT BELOW
END OF CONTRACT BETWEEN SARKCESS MUSIC AND STRONGMAN
SarkCess Music wishes to announce the end of its contract with Osei Kwaku Vincent well known in showbiz circles as Strongman. Working with a gem of his kind for the past two (2) years has been priceless.
The journey with Strongman has altogether been an amazing and remarkable one. Strongman has proved beyond doubt to be a sensational talent, gracing the Ghana Music Industry and the world with his presence hit after hit and some incredible performances.
It is worth mentioning that Strongman during the past two (2) years has been a phenomenal artist growing his brand here in Ghana and beyond the shores of the country. We are grateful to the fans, management, industry and all who made this SarkCess Music – Strongman journey worthwhile.
Strongman is such a phenomenal artiste we wish him the absolute best in all future endeavors. We wish to reiterate that, even though the legal relationship between both parties has officially come to end, we still remain a family. Our doors are forever open and we promise to extend a helping hand anyway possible should our services be needed.
Signed
SarkCess Music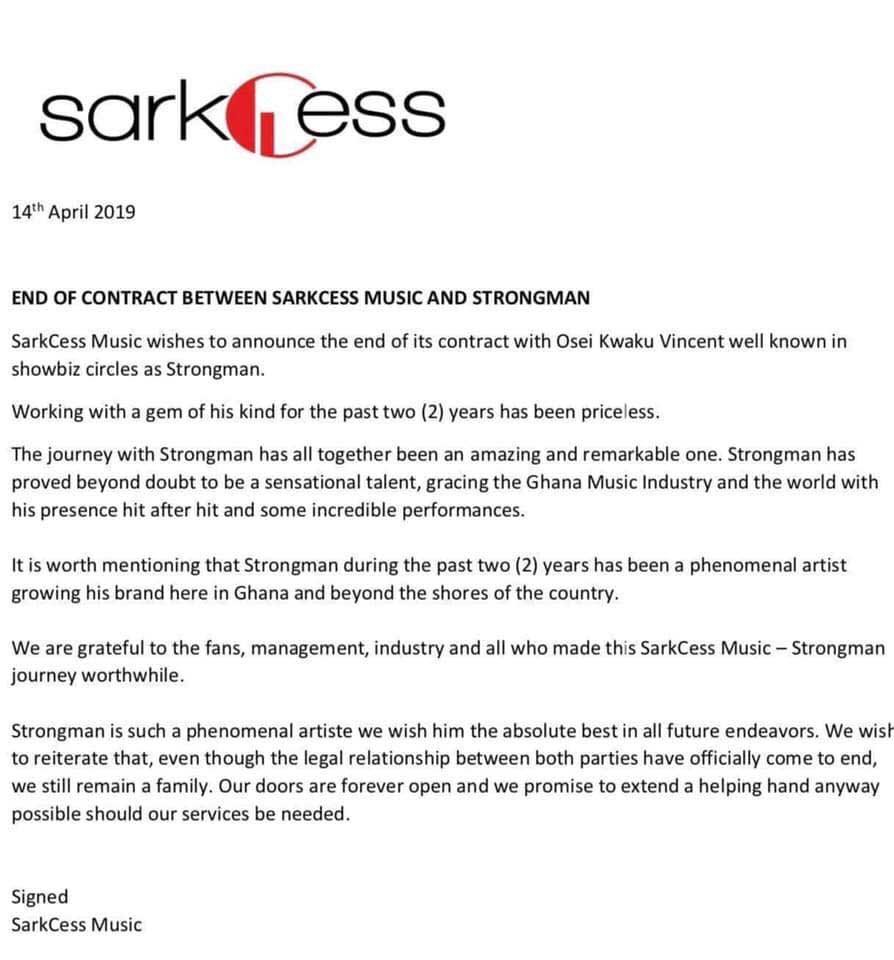 SEE ALSO: Sarkodie die-hard fan Mimie Sarkcess sets the internet ablaze with her big boobs
With Strongman out of Sarkcess Music, it is now time for him to prove to his fans who have accused Sarkodie of diming Strongman's shine were right. Good luck to Strongman Burner