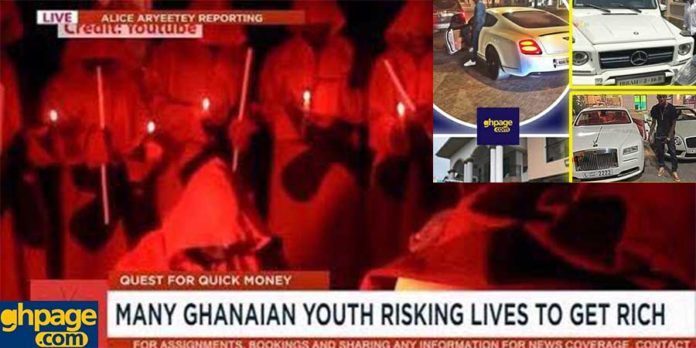 These days spiritual healers have now taken over the advertising industry to promote their business through social media and mounting huge billboards.
These traditional priests, priestesses and mallams are competing for space with churches and the business community advertising their shrines and services which includes money doubling, good marriages, problem-free visa acquisition, booming business and several others.
ALSO READ: Efia Odo replies boyfriend sakawa tag
In times past, identifying the whereabouts of spiritual healers was a huge task. You had to travel miles into the bushes before you can secure the services of one but interestingly this is not the case anymore.
All around the capital in towns and villages, spiritualists are boldly advertising their services to the public. But do these spiritualist posses the very powers they claim to have?
This is a story of a 27-year-old Kofi Mensah (not his real name)  who after his trip abroad to seek greener pastures failed and could not withstand the pressures of society, decided to seek the help of a spiritualist to make him rich.
He says that his quest to get rich at all cost landed him in the abode of a spiritualist who claimed to have powers to double his money and make him rich quickly.
ALSO READ: Sakawa boys are sacrificing slay Queens to renew their covenants
Kofi also stated that after consulting with the spiritualist, he then decided to adhere to the terms and conditions spelt out to him disregarding the consequences of his actions.
"The spiritualist requested for GHC 1,500 and placed it in a box and was reciting some incantations whiles pushing the box. He also gave me some powder and asked me to sprinkle it whiles he was saying the incantations. After all this, I realized lots of money in the box and he told me I had to offer a sacrifice before I could use the money.
He later said the sacrifice was worth GHC 2,500 and I have to provide it within two days. I complained to him that the initial money I gave to him was lent to me by a friend and that I couldn't afford such money but he insisted"
Sadly, Kofi never got his money doubled and had to battle with the torment of evil spirits every day.
"The spiritualist also asked me to buy a pot, egg, bag and padlock and he will put the money in the pot for me and that the money will be ok for me to use after some few months. 
Since the day I brought the pot home, I do not feel free. I am being haunted and I can't sleep till the next morning. It is always like I am being haunted by human beings, lions and fire. They appear physically and I don't know what to do", he added.
Just like Kofi, the quest to get rich overnight has led many young people to engage the services of spiritualist, putting their lives and that of their families at risk.
There are blood sacrifices and several outrageous conditions like not walking in the rain and bathing for a period of time.
News about spiritualist duping people of their monies have filtered the airwaves for months yet this has not deterred many from still seeking their services.
Watch video below;
ALSO READ: Nigerians adore and appreciate Ghanaian talents -Prince David Osei