It appears as the Ebony's Tribute Concert draws nearer, the organizers led by Bullet, late Ebony Reigns manager has been having one issue after the other.
According to Bullet, the CEO of Rufftown Records, some artists are demanding for money before the mount the platform at Ebony Reigns' Tribute Concert which is slated for 23rd March.
SEE HERE: List Of Artiste To Perform At Ebony Reigns' Tribute Concert On March 23
When he disclosed this on his Facebook page, many people accused Shatta Wale as the one who is demanding the money before he performs. This was mainly because he is the only ace artist in Ghana who is missing on the flyer.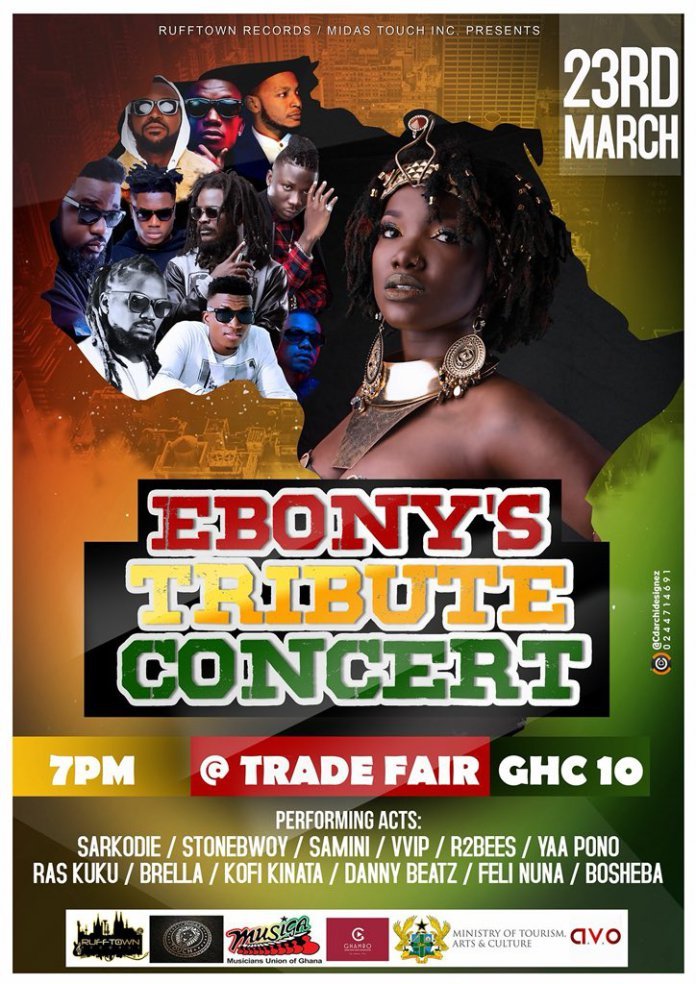 But new report coming in seem to suggest the Uptown Energy rapper, Yaa Pono may likely be the person who demanded the money.
SEE HERE: Some artists are asking me to pay them before they perform at Ebony's tribute concert – Ebony's manager reveals
According to what GHPAGE.COM has gathered, Yaa Pono has sent a strong warning to Bullet to take his picture off the Ebony's Tribute Concert because he didn't give his permission for his picture to be placed on it.
According to what we gathered, Yaa Pono's temper rose very high when he saw the Ebony's Tribute Concert which has Sarkodie, Stonebwoy, and all the ace artist as well as himself on it.
SEE ALSO: Shatta Wale "Fingered" As The Hypocrite Artist Who's Requesting Money To Perform At Ebony's Concert
He claims his approval was not sought before he was placed on it. He called Ricky Nana Agyeman aka Bullet, Ebony Reigns manager and warned him to take his picture off the flyer or else!.
Well, Ghpage.com do not really know what he means by the "or else" but we are trying so hard to talk to Yaa Pono for his side of the story.
STAY WITH US FOR ALL THE UPDATES.
SEE ALSO: The deaths of Ebony, Terry Bonchaka and, Suzzy Williams Have One Strange Thing In Common