Today, 17th January 2019 is the 28th birthday of Kumawood actress/producer, Tracey Boakye and a photo of her sucking a d*ck to show her prowess when it comes to d*ck sucking has hit the social media generating wild reactions from Ghanaians.
Tracey Boakye for days now has not been silent about her birthday. She has been making soo much noise about it as expected. Finally, the day is here and she has released some gorgeous photos to mark the day.
SEE ALSO: MTN publishes the names and photos of Qwikloan defaulters
One of the pictures, in particular, has got Ghanaians and her fans talking. In that photo, the big boobs actress is crazily sucking on some dildo to show her skills.
Considering the fact Tracey Boakye has never shied away from her intense sexually, many have been wondering how good she is when it comes to bedroom matters and she has finally proven she get skills.
Well, check out the particular photo which has got social media buzzing below
SEE ALSO: EOCO goes after Shatta Wale's Ship House mansion, Becca's Beauty Spa and other Zylofon artists' assets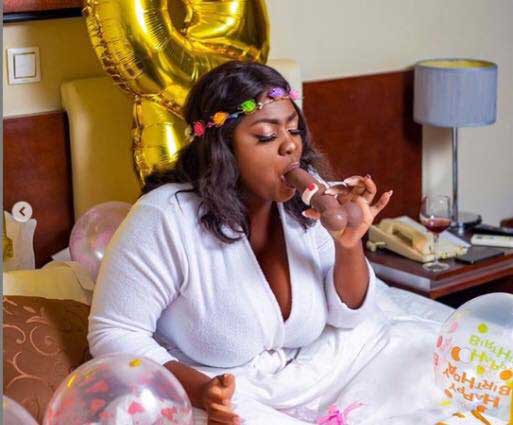 The beautiful actress released other amazing and super gorgeous photos to mark that year. Sharing one of the photos, Tracey Boakye wrote:
Thursday afternoon, (17th January 1991), you brought me into this world, named me YAA ASANTEWAA BOAKYE, I've now grown up to understand the real meaning of my name, Mum and Dad, u know I love you guys soo much, you got mad at me when I refused to stay outside the country with you guys, but I told u, I have a brighter future in Ghana than Canada and Uk. I believe in myself and I don't give up till I'm done ?. I will continue to make you proud of me as your first child. Most people think I'm hiding my age ??because of my achievements in life, I'm 28years today and God has done more than I asked for at this age, I know he's not done with me yet. To anyone that looks up to me, I promise to always inspire you ???. HAPPY 28th BIRTHDAY TO ME ??????THANK YOU LORD? ? #hisonlychick?
SEE ALSO: Former Miss Ghana Finalist & Legon SRC Secretary robbed