South Africans have once again gotten their name in the news once again over their attacks on other African Nationals claiming people from the other countries have taken all job opportunities in the country leaving them South Africans jobless.
Due to this, the country is in a mess where some looters renewed their xenophobic attacks on foreign nationals, especially Nigerians.
In effect, social media has been flooded with comments, opinions, and experiences from celebrities and public figures.
Tracy Sarkcess who is the wife of multiple award-winning rapper, Sarkodie, has also commented on the ongoing attacks in South Africa by way of sharing her frightening experience when she was in South Africa a few months ago.
Tracy took to twitter to post this.
The tweet reads: "Thread: 1. I was in SA this year in March for 4 weeks and I never felt safe. I realised that whenever a black South African made me out not to be one of them, they would treat me differently & sometimes ask where I'm from. I remember one driver asking that same question…"
"2. … & when I told him I was from Ghana, he told me I don't look a Ghanaian/West African because I wasn't very dark!! And said your ppl are very dark ehh…I was so upset but I was also very scared because the way he was looking at me I actually thought he might want rape me"
"3. My point is this xenophobia thing is real in SA but it's deeply rooted in the apartheid culture. To be honest, it still feels like apartheid there where the Black South Africans are very much afraid of the whites."
"4. I don't know what the solution is but I think it has to start with the re-education of Black South Africans. #SayNoToXenophobicAttacks"
See the tweets below: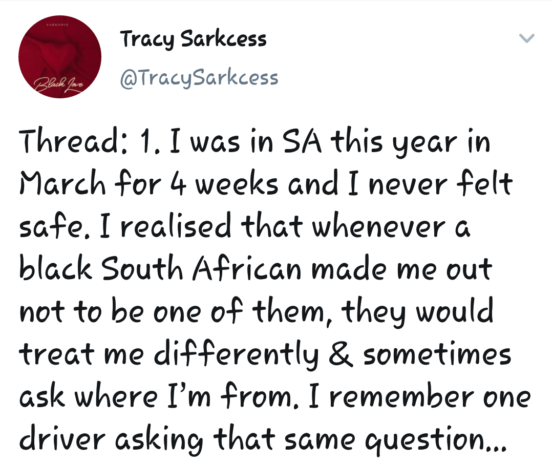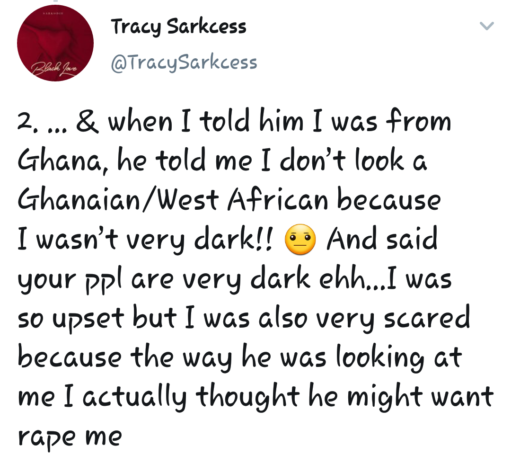 Meanwhile, some other celebrities and public figures are still reacting to the latest South African Xenophobic attacks.
According to a police statement, forty-one people have been arrested in connection to the attacks. Further reports state that law enforcement agencies are still working tirelessly to bring the situation under control.