In a letter dated September 12, SEC said after its thorough investigations on the activities of Menzgold, they have found out that, the Nana Appiah Mensah-owned firm does not have the license to trade in gold collectables from the public.
This directive by the SEC to close down Menzgold Ghana Limited has angered a lot of Ghanaians. Artist and actors who have signed unto Nana Appiah's label have thrown their support behind him likewise celebrities who are not signed or have no business to do with them.
Read also: List of Top 15 Richest Ghanaian Actors/Actresses and their Net Worth
According to them, they stand by Menzgold and will forever with the concerned citizens support Nana Appiah's course of creating jobs for the unemployed youths.
Well, Stonebwoy in reaction to the reports says that he stands by Menzgold and that Ghana Must Prosper.
The BHIM Nation CEO stressed that Menzgold is For Ghana By A Ghanaian And benefits Ghanaians. He posted the statement released by the SEC and captioned it "#iStandByMenzgold Ghana Must Prosper.. @menzgoldgh is For Ghana By A Ghanaian And benefits Ghanaians…
Read this: NAM1 angrily reacts to the Menzgold shutdown order
Lawrence Asiamah Hanson aka Bulldog who is the Artiste and Repertoire Manager for Nana Appiah Mensah's Zylofon music responded to the closure of Menzgold earlier by the Securities and Exchange Commission.
Read also: Nana Appiah Mensah addressing his workers at Kasoa
In a video sighted by Ghpage.com, Bulldog is heard saying that Ghana is the only country that parents envy their children and Pastors extort from their congregation all in the name of the bible and God.
According to Bulldog, its only in Ghana that the elderly don't care about the well being of their youth who had no hands in them no becoming successful when they were in their youthful age. Watch the video below.
Read this too: Nana Appiah Mensah Is The Jesus Of Our Time – Bulldog
Zylofon Media's Benedicta Gafah has also waded into the Menzgold brouhaha urging all customers of Menzgold to calm down because all their gold deposit is safe.
In a video sighted by Ghpage.com, the beautiful actress assured customers that their gold trades are very safe and business is proceeding as usual. See photo and video below.
Read also: Shatta Wale opens up on Nana Appiah Mensah's Illuminati claims
Read more: Zylofon Media CEO, Nana Appiah Mensah Splashes Money On Street Hawkers
Sarkodie's wife, Tracy Sarkcess, waded into the BoG-Menzgold brouhaha a month ago stating that BoG should focus on the banks and leave Menzgold alone following the Bank of Ghana's declaration that it would soon go after Menzgold.
Tracy Sarkcess in reaction to ace radio and TV personality, Nana Aba Anamoah's post on Instagram, Tracy educated Bank Of Ghana on how NAM 1's MenzGold operates, saying, MenzGold doesn't take deposits, they buy gold with the money they receive and gives back in return on their investments.
tracysarkcess: Menzgold doesn't take deposits. They buy gold with the money you give them and work with that gold to give you a return on your investment. Which the last time I checked was around 10%. BOG should rather concentrate on the banks that are misappropriating people's money rather than the ones actually making money for its people.?
Read also: Kumawood Actor, Sunsum Ahuofe Has A Message For Nana Appiah Mensah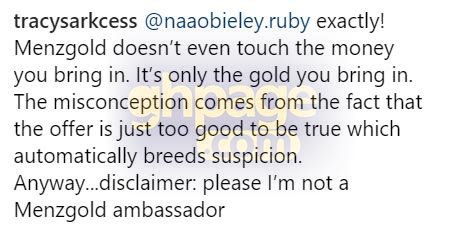 Read also: Unbelievable!!! Zylofon Media boss Nana Appiah Mensah confirm Illuminati rumours?
Shatta Wale as usual hit hard at the president of Ghana in the Menzgold – Bank of Ghana brouhaha a month ago.
According to Shatta Wale in a new tweet, it will be a clear proof that Nana Addo does not care about the youth of Ghana if Menzgold goes down.
According to Shatta Wale, Ken Ofori Atta the Finance minister does not have more votes than him and if Nana Addo does not step in and make sure BoG leaves Menzgold alone and Menzgold collapses it will mean he does not care about the youth of Ghana.
Read more: 12 unseen photos of Nana Appiah Mensah's wife
So Mr President are you saying Ken Ofori Atta has votes more than your own son Shatta Wale..How can they bring down a structure that is in Favor of the youths of Ghana all in the name of politics..If Zylofon or Menzgold go down it means you don't care about we the youth of Gh!

— SHATTA WALE (@shattawalegh) August 11, 2018
Also, Shatta Wale in a self-recorded video stated that Nana Appiah Mensah is rich but he has not used his wealth to purchase houses or asset outside Ghana as many rich dudes had been doing and called on the youth to rise up and build their nation. Watch the video below.
Read also: "My mum was by my side when I went blind for 10 years" – Nana Appiah praises mum
https://youtu.be/fJzYgat6grA