According to what Ghpage.com gathers from multiple sources, two female 400-level students of Benue State University in Nigeria were pictured writing their final exams in their wedding gowns.
They are reported to be Mass Communication students of the university, where they wrote their last paper, COM 402: Media Law and Ethics in their wedding gowns.
Apparently, the exam clashed with their wedding which was today.. The exam of course couldn't be shifted, so they had to storm the exam hall in their gowns.
Photos Below: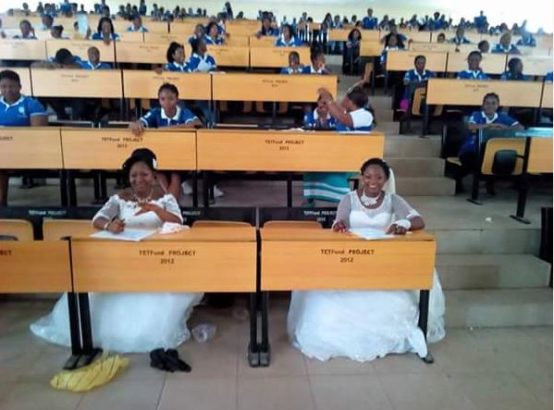 READ ALSO:Pastor kills lover, buries the corpse in his church
READ ALSO:Video: Nigerian Pastor Gives His Wife A Shopping Mall, Fuel Station And Transport Company As Birthday Gift
Some comments are already flying in on social media after the pictures went viral;
Their children will be so serious with sch ehn, they should finish on time m craving for wedding rice abeg
What students go through in this country to get that Damn certificate though. And in the end, you won't find any job. When you finally find one. They'll offer you 30k a month.. I'm tired of Nigeria. I swear
That is nice. They in for 2 exams in a day. They will get a certificate immediately today in one while they have to wait for d other to come out later. But may i ask a question here? Are they using uniforms in the school?
Women that marry in school and are pregnant during NYSC ???…I don't know how you do it
So they can't wear another outfit and change immediately after d exam. You have made it to the media, clap for yourselves ???
It's obvious a lot of people have forgotten that final year students of nowadays make customized tops and possibly put it on there final exam. Happy married life to the ladies. They obviously value education and didn't give chance to an EXTRA YEAR. Good one.
A country that can't just have a flexible educational system..these ladies can write the exams later, but no they must do it now or have carry over.. even Harvard university will give exceptions but our hard life mentality won't allow us..well it's my 2cents ??????