After the news went viral that Joselyn Dumas has confessed that she dated John Dumelo for 2 years before he married Mawunya and that they were crazy in love until they broke up because "Things didn't work out", Joselyn Dumas came out to rubbish the news.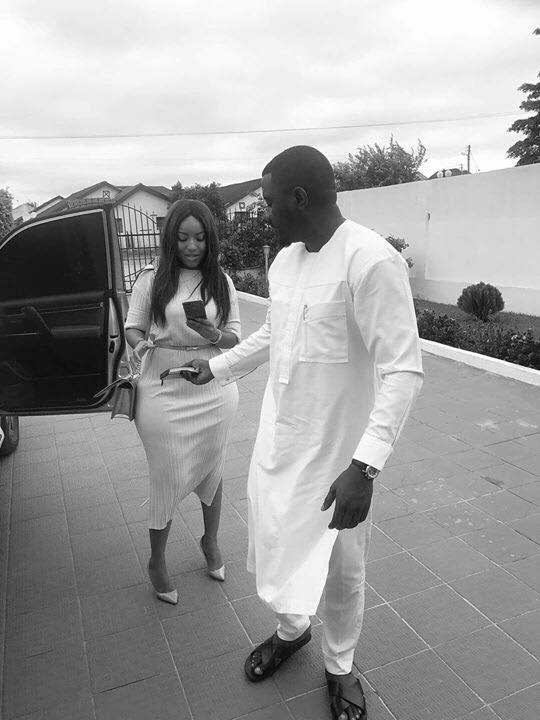 read also: Malia Obama spotted getting cosy with handsome boyfriend while smoking cigarettes
She allegedly made this revelation in an interview with Abeiku Santana in a yet to be aired TV interview.
@Joselyn_Dumas responds to @johndumelo1 dating rumours #UTV #UTVNews #UTVGhana #ATUU pic.twitter.com/MrNJuYbi31

— UTV Ghana (@utvghana) August 10, 2018
This news shocked everyone who never knew they two ever dated but in a quick U-turn, Joselyn Dumas has revealed her words were intentionally twisted by Abeiku Santana.
She expressed disappointment in Abeiku Santana who should have known better considering the fact that he is a media personality not to twist words to promote an untrue statement.
Meanwhile, management of Despite Media Group has issued an official apology to Joselyn Dumas stating categorically that actress never said so in the interview.
read also: JOHN DUMELO DECLARES HIS INTENTIONS TO CONTEST FOR MP IN VOLTA REGION
In a statement released by the management, they wrote:
The attention of management of Despite Media (UTV) has been drawn to a report circulating on social media purporting that actress Joselyn Dumas dated actor John Dumelo for two (2) years, in an exclusive interview she granted the former.
UTV and the entire Despite Media Group apologise to Actress Joselyn Dumas for the misrepresentations and false statements attributed to her in the promo released by the station. We would like to state that there was no malicious intent to dent her image.
Indeed, our ATUU programme is set to celebrate achievers in the entertainment industry and not to ruin them or their reputation. The said promo has been duly corrected and retraction has been effected on various platforms within our jurisdiction.
Once again, we unreservedly apologise to Actress Joselyn Dumas for any harm this social media circulation might have caused her reputation.
Management has sent a DVD copy of Joselyn Dumas' full interview with Abeiku Santana on the ATUU programme to her for her perusal.
Meanwhile, the said interview would not be broadcast on UTV this Saturday, 11th August 2018, as earlier announced, until management receives Joselyn Dumas' irrevocable permission to air the interview.
read more: ACTOR JAMES GARDINER REACTS TO WHY JOHN DUMELO DUMPED HIS SISTER